There is going to be an additional Show & Sell Order placed to get more product for Show & Sell efforts. Each Scout unit has until end of day Sunday, Sept. 26, to place its order. If your unit wants to place a second Show & Sell Order or if you want to place your first order you can do so.
To learn more and see all of this week's Kernel Journal news, CLICK HERE!
---

Door Hangers are in
Be sure to contact Kim Davis at the office if you'd like to get your hands on some door hangers for your Scouts to use. There is no charge to the Scout or unit. These are available while supplies last.
These will allow you to go door-to-door selling and if no one answers, put the Scout code on the door hanger and leave at the residence.
Kim Davis can be reached at kimberly.davis@scouting.org to order door hangers.
---
Banners available for units
There is a limited supply of popcorn sale banners available for use during Show & Sell to promote your unit's effort. There are only 50 available on a first come bases. They are 72-inches by 30-inches (6x2.5 feet). There is no charge for banners. We ask units to limit the number they request. If you are interested, please contact Kim Davis at Kimberly.Davis@Scouting.org.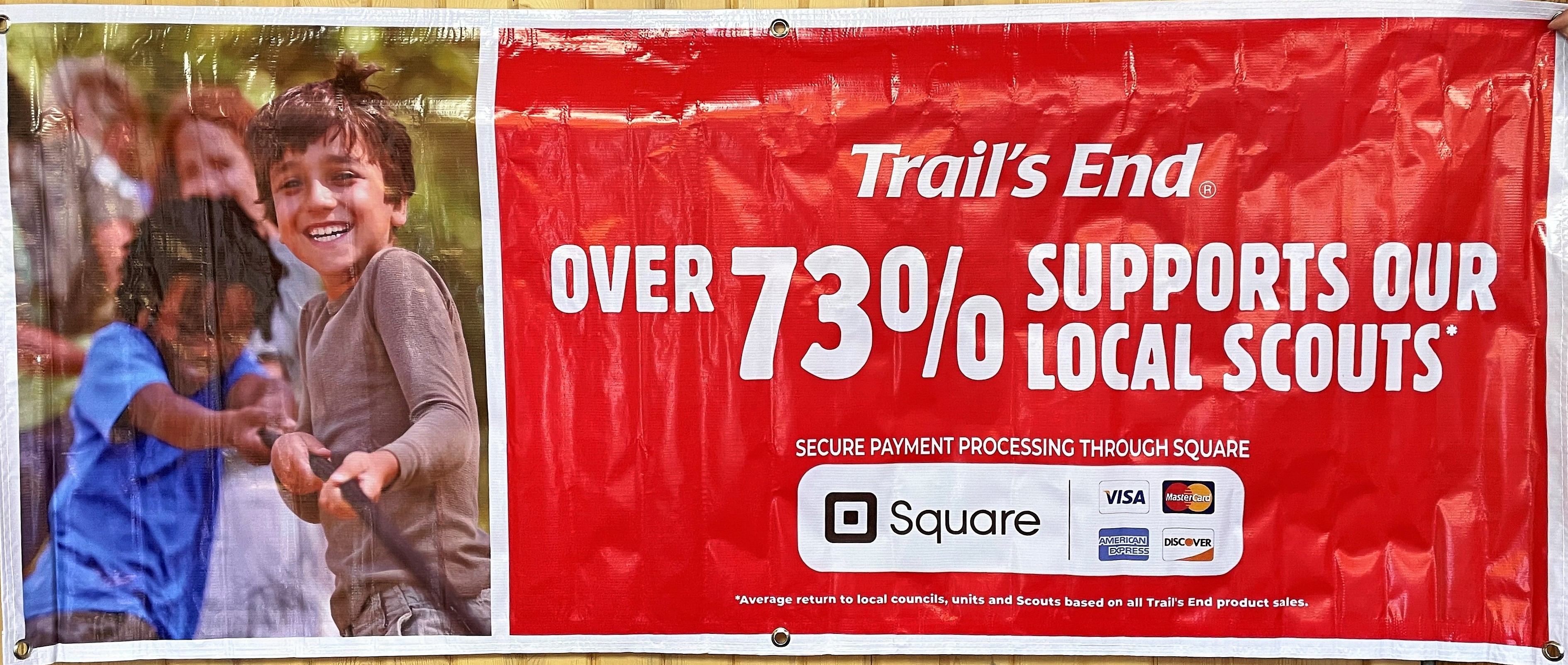 ---

Unbelievable Butter Microwave Pricing Different Online
Please note the Unbelievable Butter Microwave product has a higher price when purchasing online direct than what our council Scouts are selling it for in-person and through the take order portion of the sale.
Here in Black Swamp Area Council for in-person sales and take order sales the cost is $20 per box.
The online price at www.trails-end.com/store is set because there are council's across the country selling this item for $25.
---
Black Swamp Area Council popcorn kernels now have a resource to discuss issues and initiate transfers of popcorn between units. FIND MORE HERE!
---
As of April 7, 2021, Trail's End users need to complete a multi-factor authentication to sign into the Trial's End App & website as well as the online popcorn system as part of an added level of security for users.
CLICK HERE
for details.
Resources:
---
Thank you for your support of the Black Swamp Area Council's Scouts, Programs and Popcorn Sale
Have questions? Contact Jim Mason, Development Director & Popcorn Staff Advisor, at jim.mason@scouting.org.

---
2020 Popcorn Patches Available
Please ask your district popcorn kernel or your district executive for the 2020 Popcorn Sale Patch. Each Scout who sold popcorn receives the limited edition 2020 sale patch.
---