Popcorn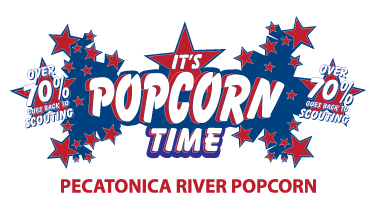 Popcorn VIP Treatment
Are your Scouts attending Swamp Romp?
Did you know that they can receive VIP treatment during the event if they have sold $800 worth of popcorn by Oct. 3rd? (Sales must be verified by the District Kernel)
What does the VIP treatment include?
A hospitality tent that will be open from 10 AM until 8 PM with refreshments, snacks and treats
Prime seating at event and a meet and greet with the prime speaker
It is not too late to get qualified for this event. You have 2 weekends left, so get your show and sells scheduled!
If you have questions, please reach out to your District Kernel.
Popcorn Prize Infromation
Prizes are awarded based on total sales dollars on a tiered system. A Scout may choose from his earned reward level or a reward level LOWER than the earned level.
Every Scout earns a patch for selling $25 in the popcorn sale.
Prize levels begin at sales of $75 for both Cub and Boy Scouts.
$2,500 Winner's Circle
Additional Rewards
Fill It Up: Fill an entire order form and qualify for entry into a drawing for a tablet. Kernels are to email a photo of the order form and send to the district kernel. If a Scout fills up two order forms, they will get multiple entries for the drawing. Drawing will be for each district.
Seller's Club
$650 Club: $650 earns you a $20 Scout Shop Gift card.

BRONZE Seller's Club: $800 earns you the benefits in the above Sellers Club and a special patch. Also, earn this by Oct. 1, 2016 and receive VIP treatment during the Swamp Romp (registration fee of $35.00 is not covered). Copies of order forms will need to be submitted to the office.

SILVER Seller's Club: $1,500 earns you the benefits in the above Sellers Clubs and an invitation to the Sellers Club Party.

GOLD/WINNERS CIRCLE Seller's Club: $2,500 earns you the benefits in the above Sellers Clubs and also your choice of one item from the Winners Circle prizes. The Winners Circle prizes will need to be submitted through the Pecatonica website. An email will then be sent to the parent's email address to choose/claim prize once verification of sales is confirmed.
PLATINUM Seller's Club: $10,000 earns you the benefits in the above Sellers Clubs and a special medal, a private pizza party for 25 guests and special recognition at the Council Recognition Banquet.
Number One Sales Person in Council: The Scout, Explorer or Venturer with the highest sales in the council will be honored at the Annual Council Dinner.
Eligibility/Additional Information
Prize Order Form and Prize Registration Forms must be completed in their entirety and returned to either Scout Service Center on or before October 31, 2016. Please make sure your forms are completely filled out and legible. These forms will be used to verify eligibility in ALL incentive programs, so please have them in on time. All Scouts must be a registered youth with the Black Swamp Area Council to take part in any of the prize programs.
All prize order forms turned in later than October 31, 2016 will not be guaranteed. The council will do its best to accommodate any additions or corrections to Prize Orders. However, prize costs and shipping charges may be passed onto the Unit for any changes made after November 13, 2016. All prizes are subject to substitution by the prize company; all substitutions will be of an equal or greater value.
Rewards dollars are not transferable and are for YOUTH ONLY!
Top Sellers
Top sellers from each district will receive 4 tickets to the Toledo Walleye game March 19. The experience will include a pre-game tour. The top seller in the council will receive a zamboni ride experience.
Top seller in the council will receive 4 premium glass seat tickets to the BGSU hockey game on February 4th.
Warehouse Locations
Arrowwood
**LOCATION CHANGE**
Warehouse Location: G2 Revolutions, 14601 CR 212, Findlay, OH 45840 (Go through gated area, loading area is at back corner of building)
Chinquapin
Warehouse Location: Keller Warehousing & Distribution, 24862 Elliott Road, Defiance, OH 43512
Great Oaks
Warehouse Location: Lane's Records & Storage, 245 E Murphy St, Lima, OH 45801
Hawthorn
Warehouse Location: Ohio Logistics, 615 Agner St, Ottawa, OH 45875
Old Sycamore
Warehouse Location: Manco Mfg., 2411 Rolfes Road, Maria Stein, OH 45860
Popcorn Resources
Contacts
For more information, contact your Unit Kernel or Colin Earl at (419) 422-4356 ext. 153 or colin.earl@scouting.org.