Troop 32 Scout soars out of gate with online sale
Evan E. has come flying out of the gates with his online popcorn sale's effort, having sold $640 in the first week for Troop 32 as of Aug. 20. Be sure to use the online sales platform as one of your methods this year, along with Show and Sell and Take Order.
Return policy clarification
To clarify, Show & Sell product can be returned by Oct. 26. The point of open cases not being accepted back at the return date applies to any product a unit may have after the "Take Order" portion of the sale, which is after the Oct. 26 date. As always, melted or damaged product, dented items, ripped boxes or single item cases with no box, will not be accepted at any time.
Mid-season Show & Sell, chocolate ordering available by Sept. 9
NEW THIS YEAR is the mid-season Show & Sell and chocolate ordering option for all units. If your unit did not participate in the August Show & Sell and now wish to order some product for your Show & Sell efforts, or if you are ready to order some of the chocolate related products, you will be able to do so prior to the Sept. 9 deadline to order. Simply go to your unit account and order the products you need. These products will then be available for pickup Sept. 21. Details will be coming on locations.
Mt. Adventure Reward begin
Mt. Adventure Rewards started Aug. 12! Each week, one Scout will win a $2,500 family vacation, while 1,750 other Scouts instantly win a $10 Amazon Gift Card. It's simple to play: Scouts earn one entry for every $100 recorded in credit card sales, each week, using the app and online fundraising. Learn more by CLICKING HERE!
Tip of the week: Fundraising online is the fastest way to reach family and friends outside your community. CLICK HERE to watch a training video to see what it takes to build and share your page.
Make sure you share this information with your Scouts!
Items of Note
For help in how-to order popcorn online for unit leaders, CLICK HERE!
The ORDER FORMS are available in two convenient formats - 4 page and table tent order forms are downloadable by clicking on item on the right under "Popcorn Resources"
An example of the Kickoff presentation is downloadable in the "Popcorn Resources"
Online selling a breeze
The Trail's End Online Sale's platform makes it easy to register and begin selling to your friends and family within 10 minutes. With the average online sale of $75, it's a great way to grow your popcorn sale.
Checkout the Trail's End-Black Swamp Area Council Online Sale webpage for more information and how to sell online. Once on this webpage, scroll down and watch the two-minute video that shows the ease to getting your online sale up and running!
CLICK HERE to learn more!

Popcorn Dates
| | | |
| --- | --- | --- |
| Date | Day of Week | Item of Note |
| Aug. 3 | Saturday | New Unit Kernel & Online Sale training Lima Scout office, 9-11 a.m. |
| Aug. 8 | Thursday | POPCORN SALE BEGINS |
| Aug. 8 | Thursday | Kickoff for Arrowwood - Camp Berry, 6pm, 11716 CR 40, Findlay |
| Aug. 8 | Thursday | Kickoff for Chinquapin - Four County Career Center, 7-9pm |
| Aug. 8 | Thursday | Kickoff for Great Oaks - Lima Scout Office, 6pm |
| Aug. 9 | Friday | Show & Sell Unit orders due to Council |
| Aug. 13 | Tuesday | Kickoff for Old Sycamore - St. John Lutheran Church, 6:30pm |
| Aug. 23-24 | Friday, Saturday | Show & Sell unit popcorn pickup |
| Sept. 9 | Monday | Mid-season/chocolate unit order due to council |
| Sept. 21 | Saturday | Mid-season/chocolate unit order pickup at warehouse |
| Oct. 26 | Saturday | Take order sales due to Council |
| Oct. 26 | Saturday | Popcorn return day |
| Oct. 26 | Friday | Show & Sell payment due to Council |
| Oct. 26 | Saturday | Council level prize order forms due |
| Oct. 26 | Saturday | POPCORN SALE ENDS |
| Nov. 8-9 | Friday, Saturday | Take Order sales unit pickup |
| Dec. 5 | Thursday | Take Order payment due to Council |
| Dec. 5 | Thursday | Units with outstanding balances will forfeit bonus |
| Dec. 20 | Friday | Unit commissions deposited into Unit account |
| Jan. 4 | Saturday | Seller's Club movie event |
Top Seller's Pledge Form
Unit leaders use this form with your Scouts to motivate and have fun with your popcorn sale kickoff. It's been shown a whip cream pie is a great motivating way to gear your Scouts up for selling popcorn. In the Resources there's a file to download and print several for your use or CLICK HERE!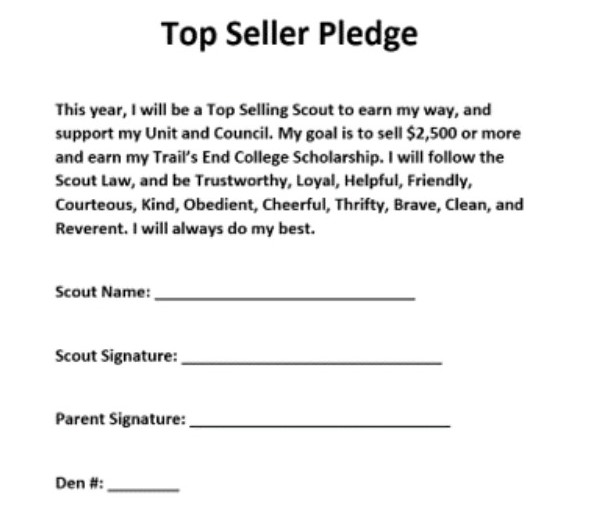 Who to call

Thank you for your support of the Black Swamp Area Council Programs
Jim Mason, Development Director & Staff lead for popcorn sale