Message from Council Popcorn Kernel - Sept. 25
Begin selling today, it's not too late
Hello all Scouters,
I wanted to reach out to let you know how encouraged I am about the popcorn sale this year. I have heard stories of units selling twice as much already as their total from last year. The economy is doing well, and the public is generous. Not to mention we have such a good cause as promoting scouting and all the program offers our youth participants.
If you thought you were getting a late start, you're not. There are still five weeks left until the deadline. I have been out to my local superstores and big box stores and have yet to see a Scouting unit selling popcorn, so things really are just getting started for most units. I encourage you to get out there and "do your best".
If you have not placed a Show & Sell order, don't let that stop you. Call the Scout office. We do have stock on hand to help your unit put on a Show & Sell.
Trail's End has provided some great technology we have not had in the past. Take a look at their app, Facebook page and YouTube channel for helpful information. Have your Scout post the popcorn sale online using social media. You may even try a "live" video on Facebook during your Show & Sell. Think outside of the box in your presentation. Remember, we are not selling popcorn we are selling support for the Scouting program.
Parents, if your unit is not registered to sell popcorn, you can still get in on the action. Your Scout can register as an individual and reap the rewards of selling popcorn. They can use those funds to offset the cost of camp, registration fees, and more. Finally, CLICK HERE and you will find a picture of our local product to share in email or social media.
Good luck to all of you. I know we can exceed our goals and build our Scouting adventures, if we only try!
Thank you for all you do to make a difference in Scouting,
Rodney Blackburn
Council Popcorn Kernel, Black Swamp Area Council
Popcorn return available now
Popcorn product return is available now for all units. If you have extra product to return to council, you can do now until Oct. 26. If you have additional product that you need, we have some various items available at the Findlay Scout Office. To make arrangements for returns or additional product pickup, please contact Kim Davis at Findlay Scout Office prior to coming to office. Her contact info is kimberly.davis@scouting.org or (419) 422-4356, ext. #116.
Simple steps, pay-off in big ways for Show & Sell
A few simple steps have help double Pack 75's Show & Sell in just one week. With more than $12,000 in sales the group has doubled last year's effort of $6,155, helping the Cub Scouts prepare for another great adventure in the coming year. READ THE FULL STORY HERE!
Additional Unit Incentive program
Unit's can receive great benefits back for their popcorn sales efforts thanks to this Trail's End incentive program. In addition to the council incentives and the many benefits for individual Scouts, units will also receive great items as a "thank you" from Trail's End for increasing sales this year over 2018. CLICK HERE to learn more!
Trail's End 'how-to' video tutorials helpful
There are several helpful videos on the Trail's End YouTube channel to help you with your questions and sale's effort. To see a sampling on subjects like credit card processing and use with the app, selling to businesses, or how to sell with the app CLICK HERE!
Return policy clarification
To clarify, Show & Sell product can be returned by Oct. 26. The point of open cases not being accepted back at the return date applies to any product a unit may have after the "Take Order" portion of the sale, which is after the Oct. 26 date. As always, melted or damaged product, dented items, ripped boxes or single item cases with no box, will not be accepted at any time.
Mt. Adventure Reward program underway
Mt. Adventure Rewards started Aug. 12! Each week, one Scout will win a $2,500 family vacation, while 1,750 other Scouts instantly win a $10 Amazon Gift Card. It's simple to play: Scouts earn one entry for every $100 recorded in credit card sales, each week, using the app and online fundraising. Learn more by CLICKING HERE!
Tip of the Week
Have your Scouts perfect their popcorn pitch by watching Luke's video as he provides best practices on what to include in the pitch. Record some Scout pitches in your unit and share it on Instagram and other social media using #PopcornPitch. CLICK HERE to watch a training video to see what it takes to build and share your page.
Make sure you share this information with your Scouts!
Items of Note
For help in how-to order popcorn online for unit leaders, CLICK HERE!
The ORDER FORMS are available in two convenient formats - 4 page and table tent order forms are downloadable by clicking on item on the right under "Popcorn Resources"
An example of the Kickoff presentation is downloadable in the "Popcorn Resources"
Online selling a breeze
The Trail's End Online Sale's platform makes it easy to register and begin selling to your friends and family within 10 minutes. With the average online sale of $75, it's a great way to grow your popcorn sale.
Checkout the Trail's End-Black Swamp Area Council Online Sale webpage for more information and how to sell online. Once on this webpage, scroll down and watch the two-minute video that shows the ease to getting your online sale up and running! CLICK HERE to learn more!

Popcorn Dates
| | | |
| --- | --- | --- |
| Date | Day of Week | Item of Note |
| Aug. 8 | Thursday | POPCORN SALE BEGINS |
| Oct. 26 | Saturday | Take order sales due to Council |
| Oct. 26 | Saturday | Popcorn return day |
| Oct. 26 | Friday | Show & Sell payment due to Council |
| Oct. 26 | Saturday | Council level prize order forms due |
| Oct. 26 | Saturday | POPCORN SALE ENDS |
| Nov. 8-9 | Friday, Saturday | Take Order sales unit pickup |
| Dec. 5 | Thursday | Take Order payment due to Council |
| Dec. 5 | Thursday | Units with outstanding balances will forfeit bonus |
| Dec. 20 | Friday | Unit commissions deposited into Unit account |
| Jan. 4 | Saturday | Seller's Club movie event |
Top Seller's Pledge Form
Unit leaders use this form with your Scouts to motivate and have fun with your popcorn sale kickoff. It's been shown a whip cream pie is a great motivating way to gear your Scouts up for selling popcorn. In the Resources there's a file to download and print several for your use or CLICK HERE!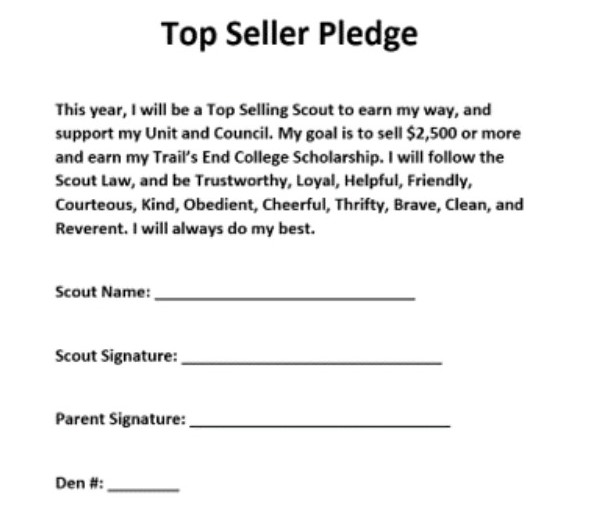 Who to call

Thank you for your support of the Black Swamp Area Council Programs
Jim Mason, Development Director & Staff lead for popcorn sale