This annual event pits groups of 5-8 Scouts in individual Patrols in a test of skills, agility, and endurance during a daylong event. With local Scout Troops from Northwest and West Central Ohio descending on the camp, there were 39 sleds competing.
Each winter, the Klondike is a reminder Scouting skills do not take a backseat when the weather changes.
Patrols compete in 7 stations called "cities" scattered across Camp . With a day with no snow on the ground, but wet grass and mud, the Scouts navigated their sleds and raced against each other and the clock as with the number of participants, there were multiple waves of sleds released on to the property. At each city there is a host for a event focused on a skill. These range from use of a two-person saw, first aid, knot tying, tree ID'ing, nature tracking, team building blanket catch, and compass course. Each group was awarded points based on their proficiency at each station.
This year's top 3 placing patrols are:
1st Place Vikings from Troop 229 Glandorf chartered to St John's Catholic Church
2nd Place Yelling Yellow Bananas from Troop 499 Tiffin chartered to Clinton Twp Volunteer Fire Department
3rd Place Sharks from Troop 444 Tiffin chartered to

St Joseph's Catholic Church
"80% of Scouting is outing, and this event is one of the best events we have Scouts". said event volunteer Dave Hirschfeld.
.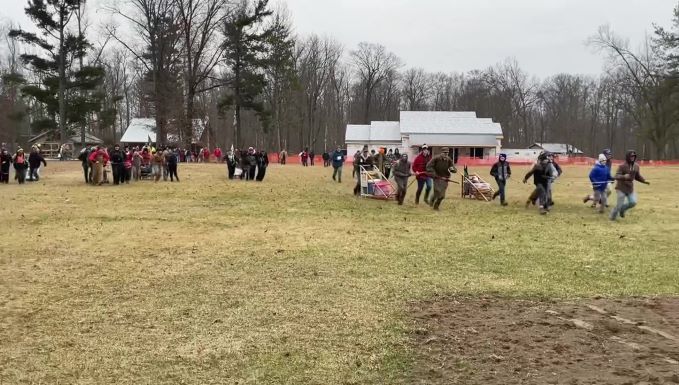 Scouts heading to "customs" to be assigned their first destination city(station).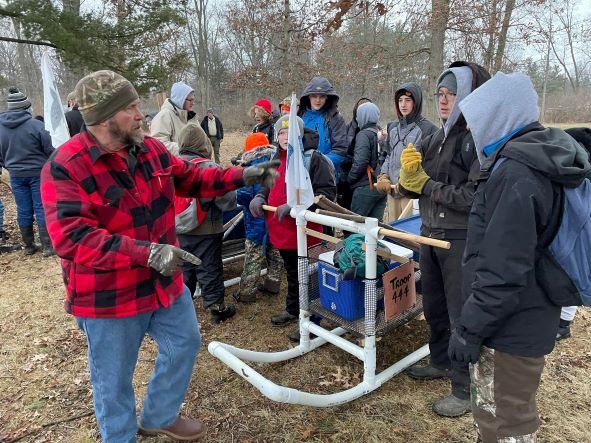 Scout from Troop 444 Tiffin receiving instructions before the start of the Klondike.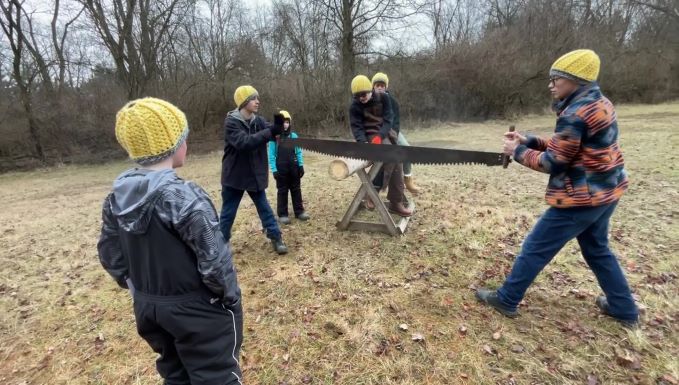 Scouts from Yelling Yellow Bananas patrol of Troop 499 Tiffin competing in the 2 man saw