Annual Exploring dinner recognizes local program
The annual Exploring Recognition Dinner took place on April 7, 2022. This was the first event conducted in person in more than two years because to the ongoing pandemic. This event recognized the Exploring youth, volunteers, organizations, and Exploring posts that help provide the invaluable hands-on opportunities and experiences that make Exploring such a unique program.
The event would not have been possible without generous contributions from partnering organizations. This year's presenting sponsor was provided by Marathon Petroleum Corporation. The Exploring Scholarship was made possible with a sponsorship from CentraComm. Additional Post sponsorships came from Crown Equipment Corporation, Findlay Warehousing, and Dr. Stan Doty and Doty Dental.
The recognition dinner was emceed by University of Findlay English professor Dr. Christine Denecker. The invocation was provided by Greg Amburgey; Executive Officer of Marathon Engineering Exploring Post, Post committee member of the City of Findlay Aviation Exploring Post, and Exploring Board Member. During this time, a moment of silence was held to honor fallen Bluffton Police Officer Dominic Francis who passed days before the event.
Many awards were presented to Exploring volunteers and Posts that are excelling in their community. Additionally, awards were presented to recipients from Senator Sherrod Brown's office. Among those are the Sparkplug Award, On-Duty Award, Advisor of the Year, Post of the Year, William H. Spurgeon Award, and a $500 Exploring Scholarship. The recipients are as follows: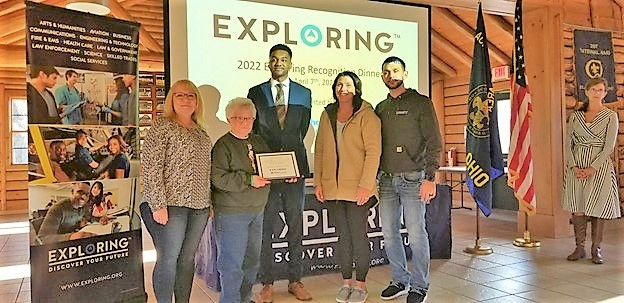 Family and friends of Mike McGuire accept his award.
Advisor of the Year - The Advisor of the Year Award is presented to an individual who has a great attitude, excellent leadership qualities, and cares about the Post and the quality of programming for Explorers. This year's award was in honor of Mike McGuire. He began serving as the Post Advisor of Exploring in 1996. The Post initially began with the Findlay Police Department.
| | | |
| --- | --- | --- |
| | | |
| Dep. MIKE McGUIRE | | |
Dep. McGuire passed away on June 12, 2021.
Friends and family remember him in this way: "Mike McGuire was a man that was more than just a leader; he was like a father and best friend to the youth. Mike dedicated his time to assist the youth he served. From helping out with life navigation, schooling, or at home life, Mike was the go-to friend in any situation. Even though everyone he worked with and the youth he served knew him on a first name basis, he was always referred to as McGuire. That was the friendship that the youth and his colleagues had with him. Mike was the friend that if you invited him to a birthday party, or had an important upcoming life event, he would do everything possible to stop by to support those that he worked with or served. Mike always took the time to know every youth and put in countless hours to make sure the Exploring program ran smoothly and made sure students were well taken care of."
Because of his mentorship, many Explorers eventually chose careers in law enforcement including dispatching, working in corrections facilities, and road patrol. At the event, we were joined by family members, friends, and coworkers of the Hancock County Sheriff's Office who remember and honor him.
---
Post of the Year - The Post of the Year was awarded to an organization that demonstrates a continued commitment to educating and supporting local youth. This Post demonstrates qualities in education, youth and adult membership, and a commitment to serving their community. This post was established during the 2018-19 school year. They have averaged 10-15 actively engaged students who have interests in learning more about different career paths within the aviation industry. They've hosted meetings on location with career professionals and institutions, which have included Toledo Air Traffic Control facilities, the 180th Fighter Wing, Bluffton Life Flight station, BGSU Flight Center and Marathon Petroleum Flight Department. The post advisor has been an integral part of the post since its inception. He has a passion for the industry, and it truly shows through his commitment to providing quality experience for the Explorers involved. The post of the year for 2021-2022 was awarded to Bruce Ziegler and the City of Findlay Aviation Post.
---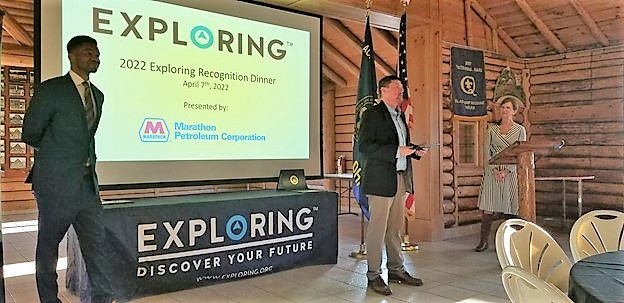 William H. Spurgeon Award Recipient Chase Hatfield, center, accepts his award.
William H. Spurgeon Award - This award is the highest recognition for individuals contributing significant leadership to the Exploring program. This is the fifth time this recognition has been bestowed in the Black Swamp Area Council. The recipient of this award had their first experience with Exploring in the early 2000's with Blanchard Valley Medical Explorers. This person always wanted to be a doctor and thought joining the Medical Explorers would help confirm their interest. Throughout the year-round program and participating in hands on activities and experiences in the medical field, it proved that the medical field was not meant for them. This person has been a face in the Findlay and Hancock County community. He has served as the Vice President of Exploring since 2017 and has helped propel Exploring to 700 youth in 2019 prior to the pandemic. This year's William H. Spurgeon Award was presented to Chase Hatfield.
---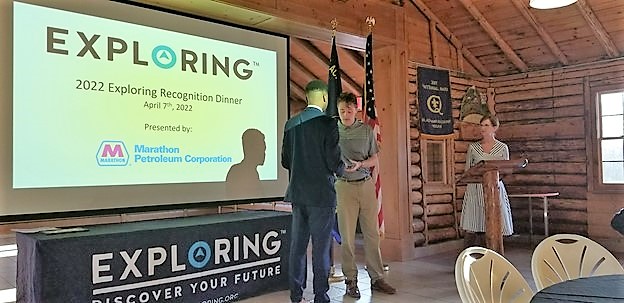 Scholarship recipient Bryson Dick from Exploring Executive Kaleb Brown.
Exploring Scholarship - The Exploring program ensures that youth and students are prepared to engage in their future careers. To assist with this, one Explorer will be presented with a $500 scholarship to continue their education. The scholarship would not be possible without the generous sponsorship of CentraComm.
The scholarship goes to an individual that has great attendance, participation, leadership, and excels in the classroom. This individual currently attends Lima Senior High School and will be furthering his education in the field of Aerospace Engineering at the University of Oklahoma.
The 2022 Exploring Scholarship recipient is Bryson Dick from the City of Findlay Aviation Post.
Bryson explains how Exploring has changed his life. "Exploring has impacted my life in a way nothing else has. From the very start, the group has accepted everyone. The program gives a chance for people to explore and see what those individuals are doing in their daily lives. Without having this group to talk to or join each month during the school year, I would be lost. Another reason this club has changed my life is the fact that I had a chance to talk to people in my intended career field. Having different opportunities, I feel is the biggest way the youth, including me, can be impacted. The biggest solution is that children get to talk to actual professionals in the program. The program offers an experience that is vital in today's workforce. Without this experience, children would not have any idea of what they were signing up for. All in all, the Exploring program has impacted my future along with so many others."
---
Sparkplug Award - The Sparkplug Award was presented to an adult leader that embodies the spirit of Exploring. This individual sees the importance career education has upon local youth and has the character and spark to get up and inspire youth. The recipient of the award has served on the Exploring committee of the Cybersecurity post since its inception in 2019. He is currently serving as the Cybersecurity Governance, Risk, and Compliance & IT Compliance Manager for Marathon Petroleum Corporation. He is also a 20-year veteran of the U.S. Air Force, serving in many leadership roles during that time. This year's Sparkplug award recipient is Mike Lowry of the CentraComm and Marathon Petroleum Corporation Cybersecurity Post.
---
On-Duty Award - The On-Duty Award is designated for Law Enforcement and Fire/EMS Posts. The Post must show quality attendance, strong youth and adult membership, Post viability, and showcase their public service to their community. This Post is a great example of what collaboration looks like, having law enforcement professionals from both a county level and village level coming together to impact the professionals of tomorrow. The On-Duty Award was presented to the Henry County Sheriff's Office.
Prior to the keynote speaker, a letter was read on behalf of Senator Sherrod Brown.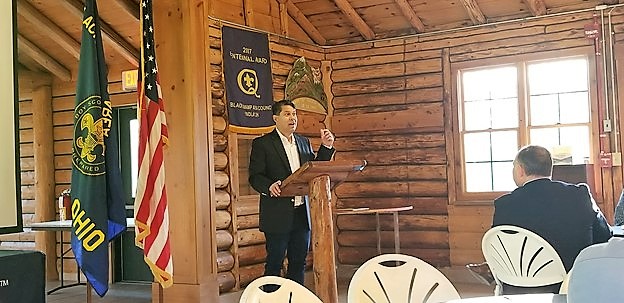 Keynote Speaker Jaime De La Cruz
The Keynote Speaker of the evening was Jaime De La Cruz, Human Resources Director of Marathon Petroleum Corporation. With 50 people in attendance to honor those who were recognized, the program continues to move forward toward a bright future. As our communities step past the changed world, Exploring is back on track to continue impacting youth to ensure their success in the future.
---
If you'd like to learn more about Exploring, contact Kaleb Brown at Kaleb.Brown@Scouting.org.
Exploring began in 1949 and is part of the Black Swamp Area Council program and learning opportunities along with the Scouting program serving young people of West Central and Northwestern Ohio.More than 5,400 individuals are participating in the local program as a Cub Scouts, Scouts BSA, Venturers, Explorers and adult volunteers. In 2020, these individuals participated in 8,069 hours of community service.