Adams Award recipient gains experience, knowledge through Troop's efforts
Troop 777's Eagle Scout project selected tops in council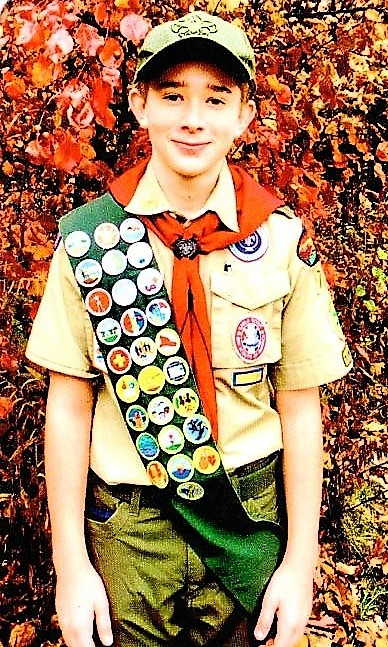 Noah Brennan helped his community by building a serenity garden at Lima Memorial Hospital. This courtyard area had been an old, designated smoking area, but thanks to Noah's efforts this revitalized area is designated to past, present, and future employees, and volunteers at Lima Memorial Hospital. He raised the necessary funds, designed the project, and completed the work to revitalize area.
This was Noah Brennan's Eagle Project. He wanted to do the project mainly to give resting place to Doctors and Medical staff for the hardships they have gone through the last two years helping the community overcome the effects of the coronavirus.
In this Serenity Garden there are perennials such as lavender, tactile objects, and sound such as wind chimes. There are two picnic tables with umbrellas on them as well as benches. In these different sections, people can sit individually and not as a group. This is a healthy area to rest and relax.
This Serenity Garden was dedicated on October 22, 2021.
Noah has received the Eagle Scout Rank and at the March 12 Eagle Scout and Youth Recognition Dinner celebrating the Black Swamp Area Council Eagle Scout Class of 2021, Noah was honored with the Adam's Award for his efforts. This is council's highest honor for an Eagle Scout project and part of the national Glenn A. and Melinda W. Adams National Eagle Scout Service Project of the Year Award campaign, which recognizes one project from each council in the country.
For this effort, Great Oaks District volunteer Linda Meyer submitted a nomination for Noah for the Jefferson Award due to his outstanding community project at Lima Memorial Hospital, but unfortunately, he was not selected to be a finalist.
He and his fellow Scouts and leaders of Troop 777 put in 290 service hours to transform this area into green space with plants, Japanese Maple trees, picnic tables, and benches. Troop 777 is affiliated with its Chartered Organization Shawnee Alliance Church.
As part of his project Noah had to work with the hospital and multi department heads. The hospital had all the rules and regulations, and he worked with them to reach compromises. Everything for his project had to be moved in and out by hand.
"He is smart, kind, sharp, disciplined and a goal orientated young man," Great Oaks District Scouter Linda Meyer stated "His peers state he is nice person to be around, and he is the youngest youth in Troop 777 to receive the Eagle Scout Rank. It took a lot of motivation to complete all his requirements for Eagle Scout Rank at the young age of 13. He has been very active in his Troop and has made every campout."
Noah has learned hard work and self-less service through his Troop's efforts. The Troop does a combination of 1,000 community service hours per year. They clean up roads every Spring and Fall from Elmwood School to Hume Road. On National Night Out in the Fall his Troop completes trash clean up after the event. He also volunteers to help at church events at the chartered organization as well as help other youth with their Eagle projects. He helps his family take meals to church members. He also takes books from home to lending libraries in the Lima area. There has been limitations to community service during the pandemic.
He has done community service for community projects for at least 3 years since becoming a Boy Scout.
He has helped his Boy Scout Troop with their community service projects, helped other scouts with their Eagle Scout projects as well as helped at his church.
"He completed an outstanding Eagle Scout project for the community. He was able to get funding for his project. The staff as well as rehab patients now have a space to rest and relax at Lima Memorial Hospital," Mrs. Meyer shared. "He had to demonstrate strong leadership skills in working with adults and youth in getting this project done. The planning stage alone showed a lot of maturity for a 13-year-old."
He also is active in sports at Shawnee Middle School, where he is in 8th grade, and completes in Track, Cross Country, and Swimming. Noah is the son of Gary and Amy Brennan.