Salute to Scouting - May 2022 feature
Troop 318 Eagle honored nationally by

Hispanic Heritage Youth Awards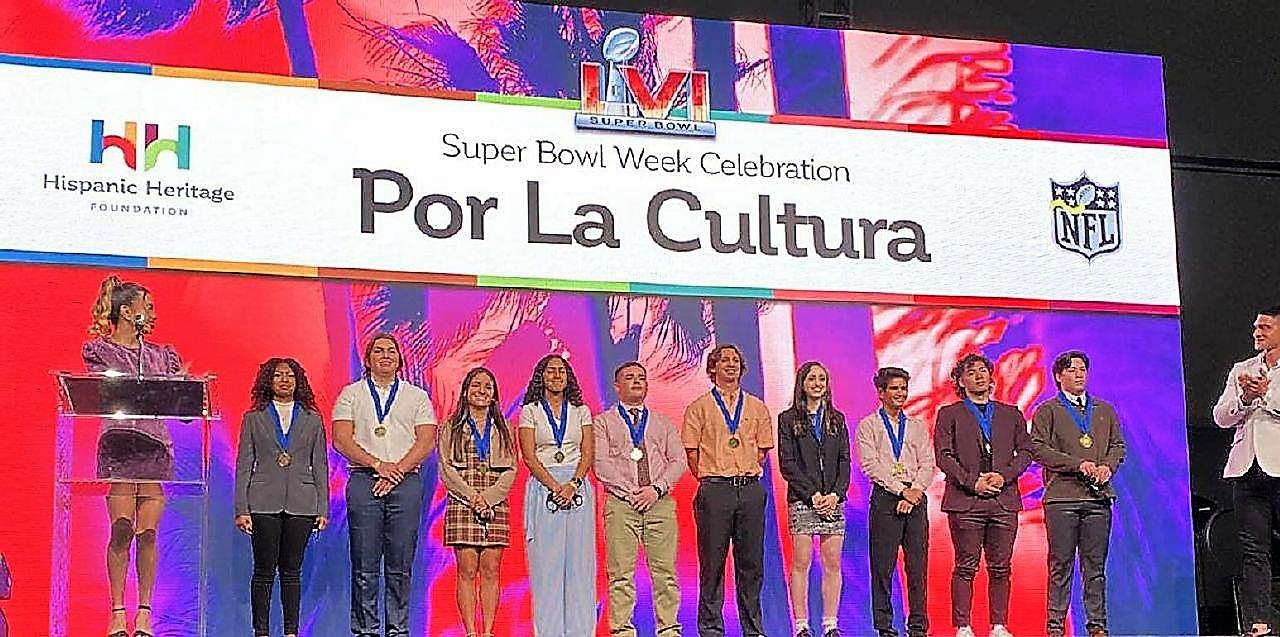 PICTURED: Chris Cortez (fifth from left) is honored among other Gold Recipients for the 23rd Hispanic Heritage Youth Awards held at the Los Angeles Convention Center in Los Angeles, California. Shown announcing the group is Mexican-American singer Ally Brooke (far left) and Chilean NFL player Sammis Reyes (far right). Credit: PHOTO SUBMITTED TO THE COURIER
Chris Cortez was honored earlier this year as he was named a Gold Recipient for the 23rd Hispanic Heritage Youth Awards in the Sports and Fitness Category.
The Arlington High School Senior was chosen as a Gold Recipient from a pool of about 30,000 applicants within eight states: Ohio, Michigan, Wisconsin, Illinois, Minnesota, Missouri, Indiana and Iowa.
As a member of the Arlington United Methodist Church Troop 318, Chris learned a great deal during his time in Scouting while completing his Eagle Scout award in 2020. He is heavily involved with community service and volunteers at his church, the science department at Cory-Rawson school, and Arlington Fest, among others.
He was featured for his accomplishments in a recent article in The Courier.
For his selection, Chris and his parents, Kimberly and Steve Cortez, received a trip to the Los Angeles Convention Center in Los Angeles, California, where Chris was honored not only for his athletic abilities, but for his grades, community service and extracurricular activities as well.
Chris also was recently the keynote speaker for a Black Swamp Area Council's Friends of Scouting breakfast on April 8.
To read the entire story by The Courier, written by Taiah Douglas, CLICK HERE!