| | |
| --- | --- |
| | You're invited to join the Aviation Exploring Program sponsored by the City of Findlay Airport |
Next meeting is Monday, Sept. 20, 6-7:30 p.m. in the Findlay Airport Terminal Building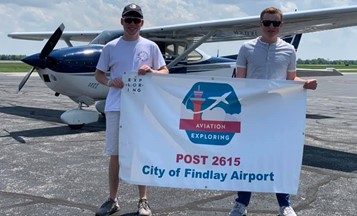 From the results of local high school student career interest survey that you have an interest in the field of aviation. I invite you to become a member of the City of Findlay Airport Careers Exploring program. Exploring programs are open to young men and women ages 14-20 that have completed the eighth grade. Through this program you will learn about careers in the aviation field including air traffic control, aviation maintenance, piloting and more! Tour an air traffic control tower, work with ground base operations, meet and ask questions to commercial pilots all while learning about careers in aviation.
Our next meeting is Monday, Sept. 20 6-7:30 p.m. This meeting will be in the Findlay Airport Terminal Building. The registration fee to join is $72.00
Let us know you are planning to attend! Colin Earl with the Exploring program at 419-701-4911 email your response to colin.earl@scouting.org students under 18 years of age must have a parent signature on their youth application.
Exploring can be an informative and fun way to help you prepare for the future!
Sincerely, Sincerely,
Bruce Ziegler Colin Earl
Exploring Advisor Exploring Executive