Announcing

30

Days to Stronger Scouting Program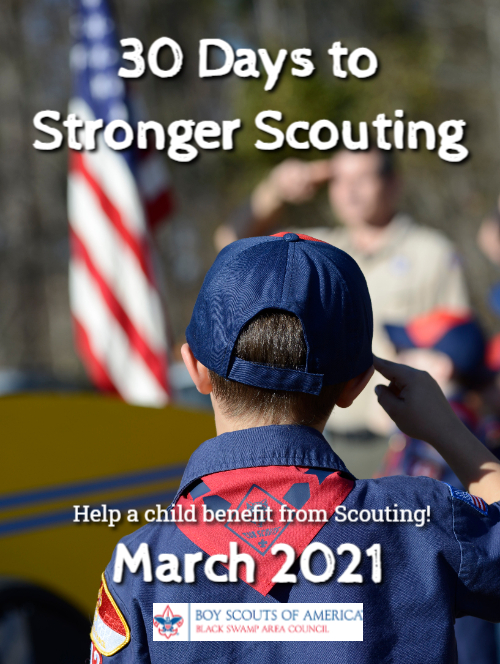 30 Days to Stronger Scouting. What is it?
It's your chance to help strengthen Scouting and help your Scout Unit earn free rank patches for a year!
How does it work?
Make your own Friends of Scouting donation, then ask the families in your unit and your friends to do the same. Every pledge and gift with your unit listed counts toward a pre-set unit goal.
Once your unit reaches goal, they can forego the traditional Family Friends of Scouting presentation and they earn free rank patches through March of next year! Plus everyone in the unit gets a cool custom shoulder patch for their uniform.
A District representative might even visit your next banquet or Court of Honor to present you with a special certificate for being a top supporter!
We've designed a toolbox full of e-mail and social media samples and images to help you make asks of your families throughout the month.
Families can pledge in two ways: 1. Fill out a giving panel from the Friends of Scouting brochure and turn it in to your unit leader or district. 2. Visit https://tinyurl.com/givebsac and make a pledge or gift online. Be sure to list your unit number to get credit toward the free patch incentive.
Some folks think Scouting just went to sleep during the pandemic, but our council had 88 Scouts earn the rank of Eagle in 2020. That doesn't sound like sleeping to me, but something to celebrate! Our council is gearing up for a full summer of camping adventures at both our council camps. Your support makes it possible!
CLICK HERE to visit the toolbox and read the handbook to help your unit get free patches.
Try out the 30 Days to Stronger Scouting program now. You have nothing to lose and the kids have everything to gain for every dollar that is raised.
Every ask you make supports a child in our Ohio communities.
For questions on the program, contact your District Professional, or you can contact Erika.Dutcher@Scouting.org or Jim.Mason@Scouting.org with council questions.