Warehouse locations for AW & OS changed
Popcorn Order No. 1 is scheduled to be delivered next week with pickup at the warehouses on Friday, Sept. 18 and/or Saturday, Sept. 19, depending on your district.
Be on the lookout for details on pickup from your district popcorn kernels. Please be courteous and wear a face-covering at the warehouse pickup to help protect all.
PLEASE NOTE: The Old Sycamore warehouse WILL NOT be used, but instead Old Sycamore unit popcorn orders will be available for pickup in the Lima warehouse location.
GETTING YOUR POPCORN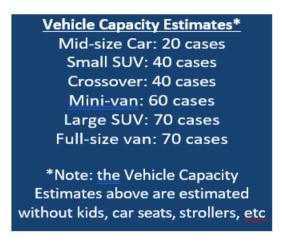 Orders may be picked up at the warehouses listed below. Orders should be pre-sorted at pickup depending on warehouse space and volunteers available.
Be prepared to count and load your order as volunteers on-site are limited. Those picking up the popcorn will sign a packing slip and take ownership of the product on unit's behalf.
Arrowwood District (Hancock/Seneca Counties): NEW LOCATION as of this week - Ohio Logistics, 1800 Production Dr., Findlay OH 45840. Head north through parking lot, past Danby, until you reach the drive-up ramp (as far north as you can drive). This pickup is Saturday, Sept. 19*.
Chinquapin District (Fulton/Henry/Defiance/Paulding/Williams Counties): Keller Warehousing & Distribution, 24862 Elliott Road, Defiance OH 43512 This pickup will be day, Friday afternoon, Sept. 18*.
Great Oaks District & Old Sycamore Districts (Allen/Hardin/Putnam and Auglaize/Mercer/Van Wert Counties): Lane's Records & Storage, 245 E. Murphy St., Lima OH 45801. This pickup will be Friday afternoon, Sept. 18*.
Note: * Pickup times to be determined with district kernel
KEY CONTACTS
Arrowwood District
District Kernel: Ted Blum, (419) 306-4153 or Tblum1@woh.rr.com
District Executive: Alice LaLone, (419) 581-9259 or alice.lalone@scouting.org
Chinquapin District
District Kernel: Laura Vasko, (419) 966-7123 or laura.vasko91@gmail.com
District Executive: Erika Dutcher, (567) 226-4962 or erika.dutcher@scouting.org
Great Oaks
District Kernel Putnam Co.: Kari Mickle, (419) 943-2549 or karimickle@yahoo.com
District Executive: Sydni Winkler, (567) 208-5903 or sydni.winkler@scouting.org
Old Sycamore
District Kernel: Julie Becker, (419) 905-9756 or julie.r.becker@gmail.com
District Executive: Brian Botti, (567) 226-4964 or brian.botti@scouting.org
Council
Council Kernel: Rodney Blackburn, (567) 250-4562 or rodney@logicowlprinting.com
Staff Advisor: Jim Mason, (567) 208-5304 or jim.mason@scouting.org
Support Staff: Kim Davis, (567) 208-5284 or kimberly.davis@scouting.org