Salute to scouting
This periodical communication seeks to highlight the great Scouters and chartered organization who call the Black Swamp Area Council home. Within this publication, you will find great stories about Scouting youth, Scouting leaders, and the organizations who enable these young men and women to do their best.
Community Impact
Lending a Helping Hand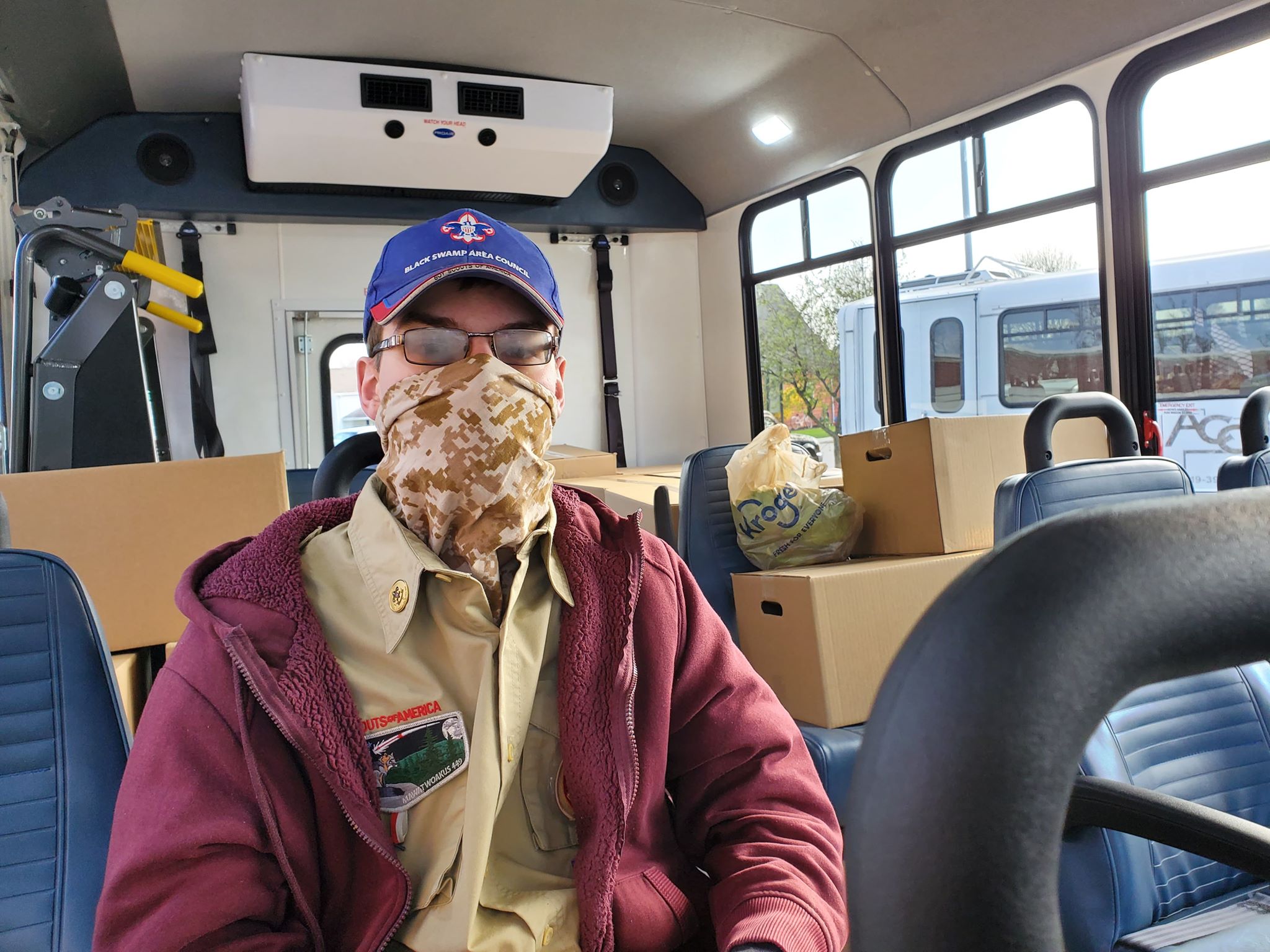 For those isolated at home, finding the necessities such as food, can be a daunting task. The Auglaize County Council on Aging is helping seniors check that task off their list with food delivery. But help is needed to accomplish such an arduous undertaking, and as the Scout Oath states a Scout is to "Help other people at all times." That is exactly what Old Sycamore District Executive Brian Botti, Scout Alex Mauter, and Scouting mom Nancy Mauter and others did April 15.
"Because of our close relationship with the United Way of Auglaize County, I heard about the opportunity and decided to help." Botti threw his own name in the hat and was able to track down six others who are in the Scouting program. The volunteers who participated, represented Troop 138 and Troop 360, both from St. Marys.
Along Brian's route there were roughly 30 stops, ranging from Minster to St. Marys. At each stop, a care package of food was delivered to those in need. "We got the food ready for each stop, dropped the food at the door of each stop with a knock on the door." During a few of the stops, more assistance was needed. "There was a stop in New Bremen, where the individual was using two canes, so I carried the items inside. We tried staying outside to create minimal chances for spreading Covid-19, but without the help the food might not have made it in the house."
Alex Mauter, a Scout with Troop 138, and his mother were on a separate bus out for delivery. When asked about the project, Alex said, "I felt like it was the right thing to do and a way I could help my community. The seniors were surprised and very grateful for the food we were delivering. It made us feel good to know we were able help the seniors in our community."
As with all Scouts, the project was not for the spotlight, but a way of helping others. This is evident by Alex's response when asked about the project, "I don't really do things to keep track, just to help."
Brian Botti also commented on the importance of helping right now. "With the elderly being the most at-risk of serious complications with this sickness, saving a trip for them might save a life."
Virtual campfire set for April 25; vote for your favorite campfire song
Join the fun of campfire and be prepared for the summer camping season with a virtual campfire April 25. With a Scout friend from Tecumseh Council, some fun is about to begin. As part of this exciting event, there's a need to help pick your favorite campfire songs. As part of an elimination style tournament, you can vote for your favorite campfire song!
Click Here to cast your vote for your favorite campfire song in the "Trail to the Final Campfire" tournament.
Determined to Do His Best
Chris Lockwood | Pack 29 | Edgerton, Ohio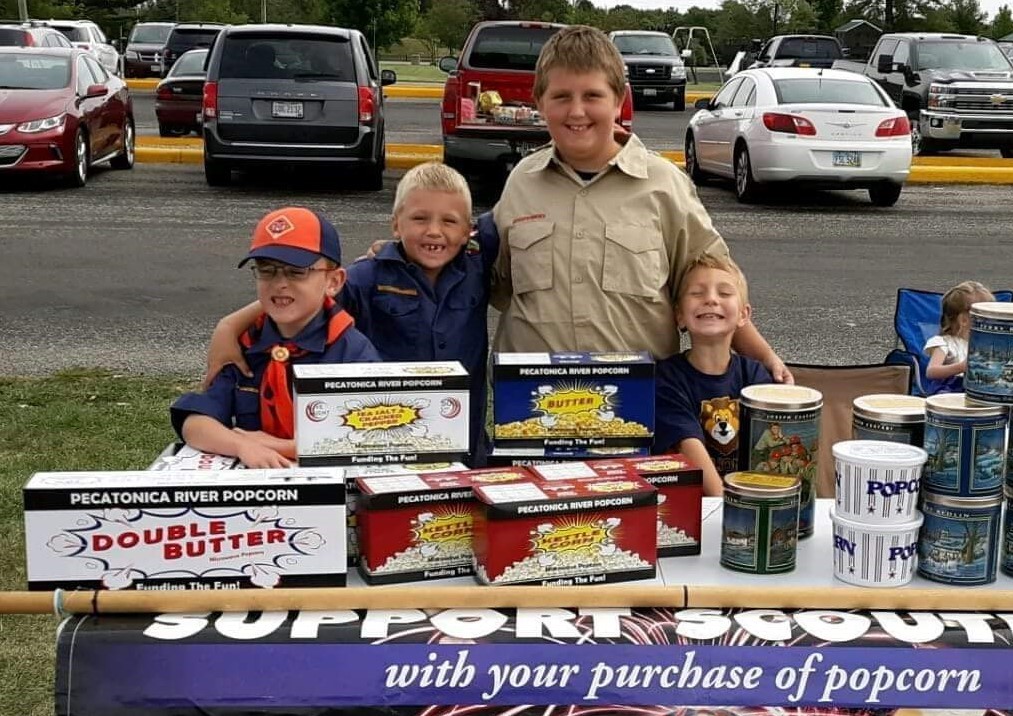 You could say Chris was born with Scouting in his blood. His late grandparents were both Scout Leaders and his late uncle earned the Eagle Scout Award. When he came home in 1st grade with a sign-up letter in his shoe, his parents signed him up to be a Tiger right away, and he has been hooked ever since.
Currently a 5th grader, his goal is to earn his Eagle Award, but he understands that it will take lots of time and effort. Recently, Chris earned his Super Nova Award, a culmination of hard work and determination.
The Super Nova Award requires a Scout to complete many adventures in their Scout Books along with many extra STEM-Related activities. While working toward his goal, Chris learned about many scientists and mathematicians including DR. Charles H. Townes, who is known for being awarded the Nobel Prize for his work on optical and infrared lasers.
Chris was also required to do a science project that reinforced the importance of the Scientific Method. He chose to observe the effects of 4 different types of vinegar with different acidity levels on chicken eggs over a 3-day period. This is the "Naked Egg Experiment".
Erika Lockwood, Chris' mother and Cubmaster of Pack 29, spoke to her son's love for Scouting. "He has always been extra involved in Scouting, especially when it comes to the success of his younger brothers and cousins who are also in Cub Scouting. He is at every meeting, eager to learn and lend a helping hand."
Troop Report
Troop 157 | Kenton, Ohio
The newest Troop in the Black Swamp Area Council have hit the ground running and are not slowing down. Scoutmaster, Jennifer Hiller is over the moon about the progress her Scouts are making, "We currently have eight youth in our Troop, and they are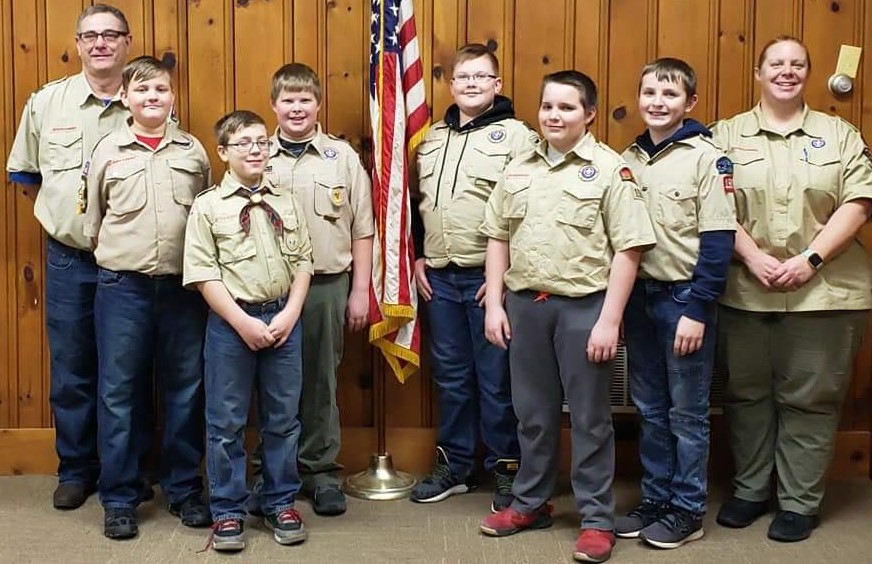 all actively working on ranks and participating in merit badges." Of the 82 Scoutmasters in the Council, Jennifer is one of only six females with the title.
Chartered in February, the Troop has made an impact in a short amount of time. "We worked with Keeping Hardin County Beautiful by cleaning up trash around France Lake, participated in Scouting for Food, made Valentine cards for residents at local nursing homes, and are currently making cards and writing letters to the first responders and hospital staff."
The current health crisis hasn't slowed the group in their pursuit of adventure, "We are still meeting, using Zoom for the Scouts to get together while maintaining two-deep leadership. We are also working on advancement items through virtual activities."
"Scouting is helps them become part of the community and allows all of us to give back. We are teaching survival skills that are applicable in nature and in society. Our focus is to help these young men become great members of their community and the leaders of tomorrow."