Local Scout leaders recognized for service
The Boy Scouts of America, Black Swamp Area Council, conducted its Council Annual Meeting and Recognition Luncheon on Saturday, Feb. 8, 2020, at the Tri Star Career Center in Celina. During the day, three valued volunteers were recognized for their service to Scouting and their communities.
President Awards were presented by Council President Sherri Garner Brumbaugh to Linda Barclay of Findlay, Sam Briggs of Lima, Jason Vasko of Archbold, and Richard Umstead of Coldwater. Each have excelled in their communities, giving countless hours and selfless service to the youth and families in their Scouting groups.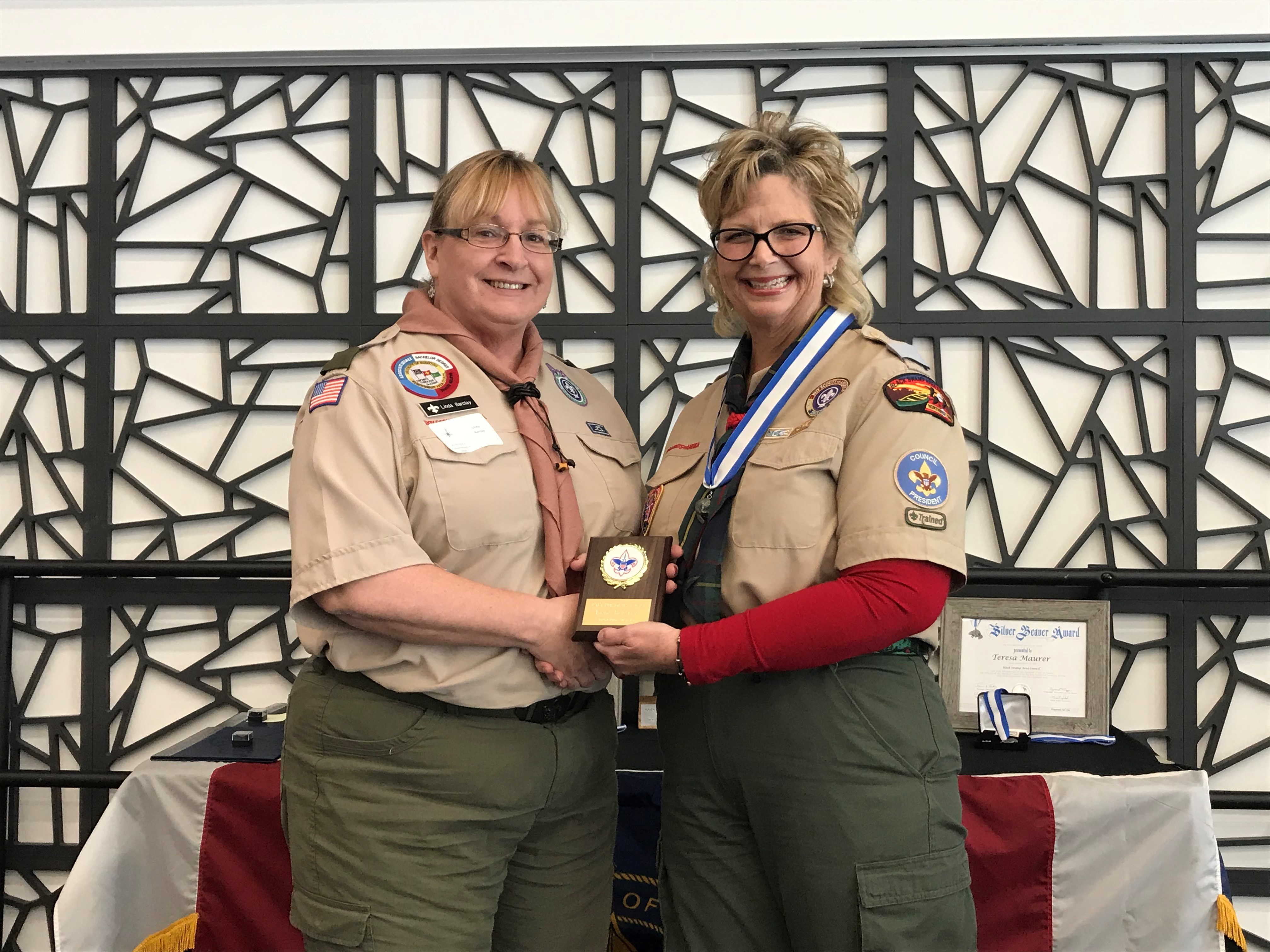 Linda Barclay was born in Athens, Ohio. When she was three years old, her family was transferred to Yoba City, California, where she grew up. Looking for a change, she enlisted in the United States Air Force, and accepted a job as an aircraft mechanic. While in the Air Force, she attended the Noncommissioned Officers Leadership School, where she won the John L. Levitow Award as Honor Graduate. Linda was also awarded the Air Force Commendation Medal for her quick reaction to an aircraft fire, in leading a team to clear nearby aircraft. During Desert Storm, she met her husband, Glenn, while deployed to Morón, Spain. After more than 12 years in the Air Force, Linda left to become a fulltime mom to their son, Scott. She was first introduced to Cub Scouts when Scott brought a flier home from school. As Scott crossed over into Boy Scouts, Linda was recruited to be on Troop 308's committee. She served as both a member, and chair, for over 7 years, before taking over as Scoutmaster in 2014. Linda completed Wood Badge in 2012. She has recently become the Scoutmaster for Arrowwood's first Scouts BSA Troop for girls.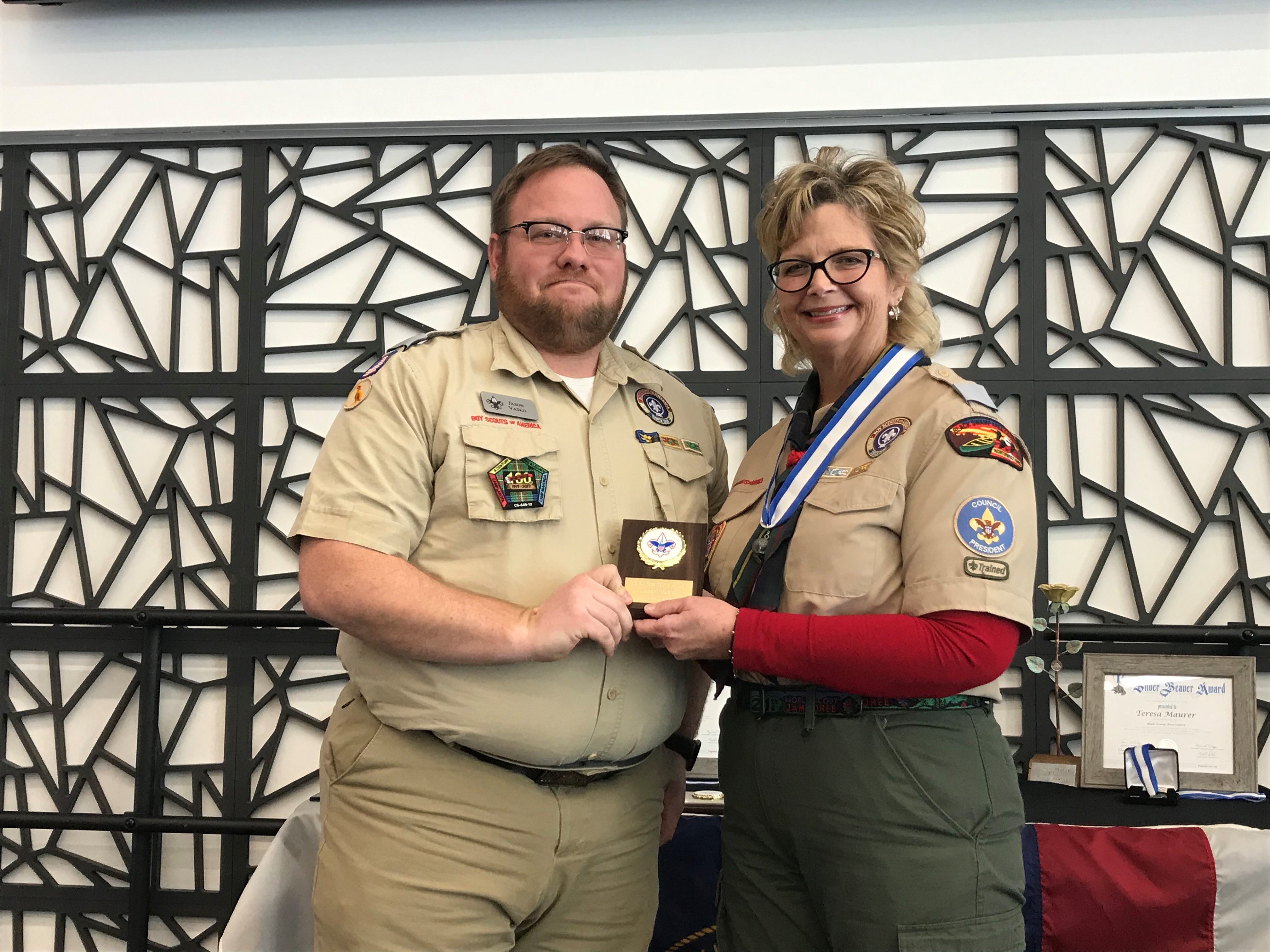 Jason Vasko serves as the Chinquapin District Commissioner. He participated in Scouts as a youth earning the rank of Life Scout. He is father to three Cub Scouts and works as a financial controller for a golf simulator company. Scouting is Jason's favorite thing to give him a break from the pressures of daily life and work. He has tirelessly worked to improve the Chinquapin unit contact and communications quality as well as quantity. He also found time to run Family Camp at Lakota and championed a new Cub overnight in conjunction with Family Fun Day at Lakota.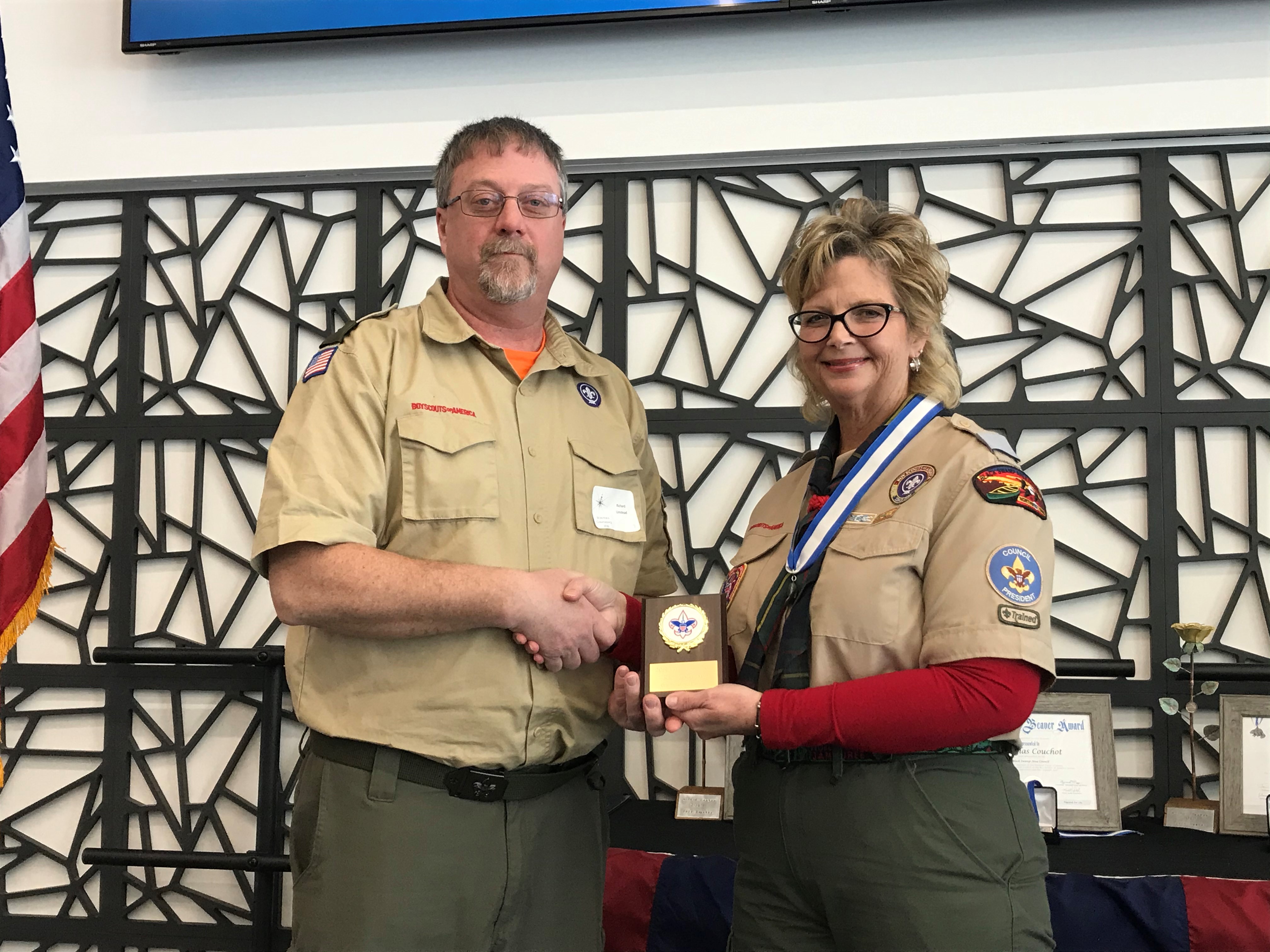 Richard Umstead is currently employed by Fort Recovery Industries where he has worked for the past 24 years. He currently is the Lead Die Maintenance Technician and interim supervisor. Richard is a 1989 Graduate of Coldwater High School and a part of the 1988 Eagle Scout class. He has been Scoutmaster for Troop 96 of Coldwater, Ohio, for the last 4 years. Richard has 3 daughters, Brittney, a dental hygienist, Katelyn, a teacher, and Victoria, WSU College, and a son, Brandon, Eagle Scout Class of 2019 and USAF Fireman Whiteman AFB. Richard enjoys teaching the Boy Scouts of Troop 96, and other youths, the Boy Scout traditions and beliefs. He enjoys the great outdoors in many ways (camping, canoeing , hunting , fishing). He also enjoys working on home remodeling projects. Richard is looking forward to many more years of Scouting and teaching the youth of today and tomorrow the Scouting Heritage.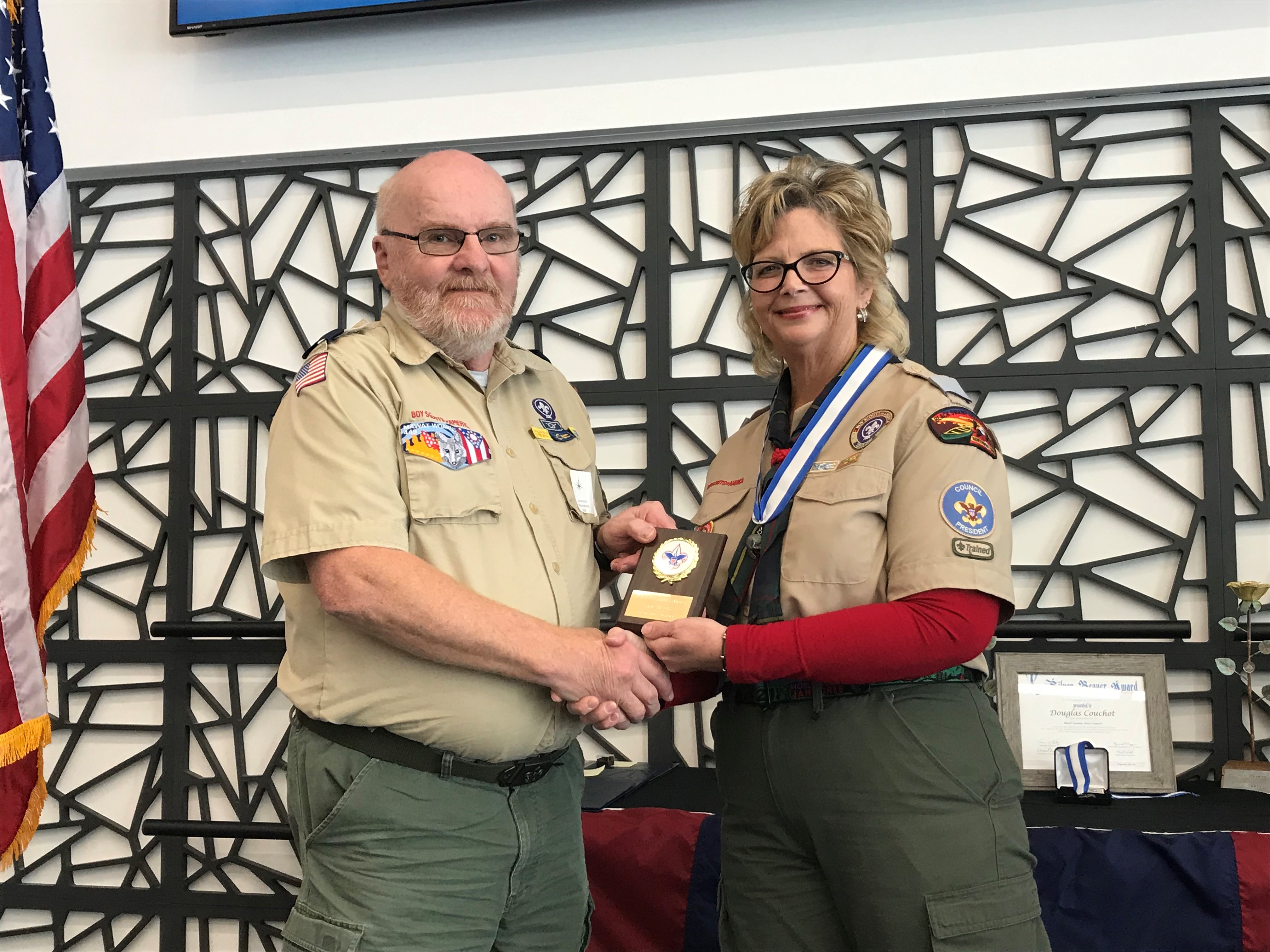 Sam Briggs began his journey with St. Gerard Pack 47 in 1998 when his son Kevin joined Scouting. In his Scouting journey he has held the positions of: Asst. Den Leader (1998-2000), Asst. Cubmaster (2000-2001), and Cubmaster (2001-2003). He has held positions of Asst. Scoutmaster/Treasurer, where he was fundamental in helping restart Troop 47 (2000-2012), cooked for University of Scouting (2004-2005), Unit Commissioner for Great Oaks (2014-2016), and Great Oaks popcorn committee (2014-present). Under his guidance, his son achieved the rank of Eagle Scout and by Sam's example, remains active in Scouting within the Council. With the help of his son, they now guided Pack 47 to ensure the Scouting program they both enjoy will continue on for many years to come. In his Scouting journey, Sam has earned several awards: Cubmaster Award, Cub Scouter Award, Den Leader Award, District Award of Merit, Outstanding Cub Scouter, and Outstanding Commissioner. Sam is active outside of Scouting where he is a member of the Eagles Aerie 370 and St. Gerard Catholic Church, where he has chaired the chicken wing booth and festival alongside his wife, Mariann, and their two children, Amy and Kevin.
Scouting in the Black Swamp Area Council began in 1915 when the Scouting program was introduced to the young people of West Central and Northwestern Ohio. The council serves the counties of Allen, Auglaize, Defiance, Fulton, Hancock, Hardin, Henry, Mercer, Paulding, Putnam, Seneca, Van Wert and Williams. Scouting provides the adventure of camping, hiking, and outdoor fun while using these outdoor educational programs to teach personal responsibility, citizenship, character development, achievement of specific goals and service to others. The Scout Oath and Law provide the foundation the Scouting movement.
The Black Swamp Area Council has two unique and outstanding outdoor leadership centers, Camp Lakota in Defiance and Camp Berry in Hancock County. More than 6,000 Cub Scouts, Boy Scouts, Venturers, Explorers supported by nearly 1,800 volunteers are served by the Black Swamp Area Council living out the Scout Oath and Scout Law one Scout at a time. For more information about finding Scouting near you, visit www.beascout.org