SILVER BEAVER SPOTLIGHT
Scouting is family for Reneker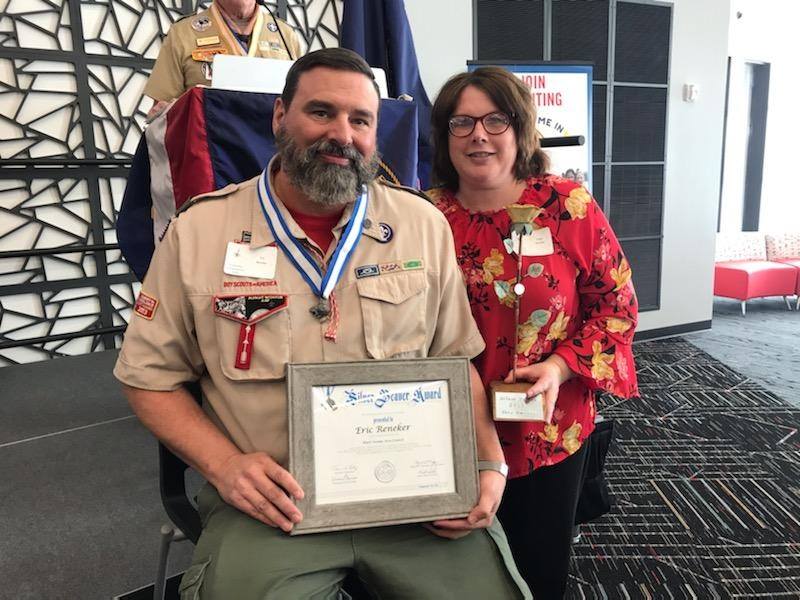 PICTURED: Eric Reneker, left, was recognized with the Silver Beaver Award at the Black Swamp Area Council annual meeting/dinner on Feb. 8. He is joined by his wife Angie.
The Silver Beaver award is the highest volunteer recognition a local Boy Scout Council can bestow. At this year's annual recognition luncheon the 2020 recipients of the Silver Beaver award for the Black Swamp Area council were recognized on Feb. 8 at the Tri Star Career Center in Celina.
When you ask Eric Reneker when his Scouting adventure began, he is likely to share his journey from the beginning as a Cub Scout in Uhrichsville, Ohio, but as you get to know him, you realize he perfected his Scouting skills as a dad for his children.
As a Boy Scout in Troop 620 in Uhrichsville is where he earned his Eagle Scout Award in 1986. He found great joy in camping at Muskingum Valley Scout Reservation in Coshocton, Ohio, and also while working on summer camp staff for two years as the High Adventure Director teaching camping, wilderness survival, and rappelling. He is a Vigil member of the OA and was Vice Chief for Netawatwees Lodge #424.
In 1995, he and his wife Angie were blessed with daughter McKenna. According to Eric, she wanted to participate in everything - dance, tumbling, soccer, softball, and swimming just to name a few. Eric was an engaged dad as he coached, refereed, and was a spectator for all. But when McKenna wanted to be a Girl Scout, Eric also wanted to be involved. This allowed him to help with some of the outdoor activities. There were plenty of backyard camp outs and nature hikes at local preserves.
In 1999, their son Kaden arrived ready to take on the world. He is a sports nut and every sport he saw, he wanted to play. Then he wanted to be in Cub Scouts with Pack 256 in Bluffton. Eric of coursed volunteered as the Tiger Den Leader. But he soon drafted and delegated to all the other parents in the Den, explaining to them that they all collectively were responsible for the growth of these young men and that each parent would need to plan a meeting night.
Eventually, Eric became the Cubmaster for Pack 256, and the group went to Cub day camp the first year. Eric was a group leader or "cat wrangler" as he explains, but as time passed, he because more involved in Scouting. First he became a range officer and then over his last three years, he was the Great Oaks District Day Camp Program Director.
When Eric's son crossed over into Boy Scouts, they moved into Boy Scout Troop 256, where he took on the role as Advancement Chair and later Troop Committee Chair.
"The best experience for me was watching my son and one of his classmates earn their Eagle," Eric stated. "All the boys are like extended family members. I have been blessed by my Scouting experience and I am humbled to receive the Silver Beaver Award."
Alongside of Eric, the other two individuals honored as Silver Beaver recipients were Terri Maurer and Doug Couchot.
The Silver Beaver Award was introduced in 1931 and is a council?level distinguished service award of the Boy Scouts of America. Recipients of this award are registered Scouters who have made an impact on the lives of youth through service given to the council. The Silver Beaver is an award given to those who implement the Scouting program and perform community service through hard work, self-sacrifice, dedication, and many years of service. It is given to those who do not seek it.
#BlackSwampScouting #Scouting