SILVER BEAVER SPOTLIGHT
Couchot finds the fun in giving back to Scouting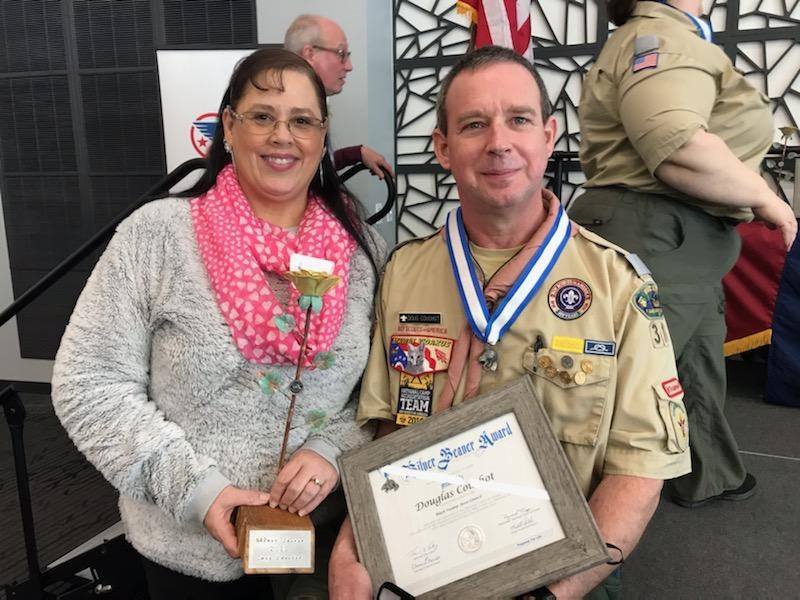 PICTURED: Doug Couchot, right, was recognized with the Silver Beaver Award at the Black Swamp Area Council annual meeting/dinner on Feb. 8. He is joined by his wife Miracle.
The Silver Beaver award is the highest volunteer recognition a local Boy Scout Council can bestow. At this year's annual recognition luncheon the 2020 recipients of the Silver Beaver award for the Black Swamp Area council were recognized on Feb. 8 at the Tri Star Career Center in Celina.
For Doug Couchot his Scouting journey has been filled with fun experiences.
"I have had lots of fun through my Scouting career, especially with my son, Brad. He became an Eagle Scout in 2012 with Troop 338," he shared. Additionally, as a Scoutmaster with Troop 310, he was able to assist two Scouts to the rank of Eagle, in 2016, and his efforts did not go unnoticed.
"Doug's patience and ability to work with the disabled youth of Troop 310 allowed these young men to enjoy Scouting and participate in all areas," a fellow Scouter said.
In his days in Scouting, Doug has been a Merit Badge Counselor for many years and the Plumbing Merit Badge has been his favorite. He attended Wood Badge as an Owl in 2009 and served as Quartermaster on Wood Badge Staff in 2012. Doug has held several positions for University of Scouting and assisted with the Arrowwood District Roundtables, where he found great enjoyment.
Currently, he is serving as a District Member at Large for Arrowwood District, and a member of Arrowwood District, Eagle Scout Board of Review team, which he reports is his favorite volunteer position. He also helps with the National Camp Assessment Team.
Outside of Scouting, he has been self-employed since 1995, and is a member of St. Michael's The Archangel Catholic Church. He is the current President of The Findlay Plumbing and Heating Association and is an Advisory Board Member of Findlay Millstream Career Center for Construction Trades. Doug and his wife, Miracle, and have two children, Amanda and Brad.
Alongside of Doug, the other two individuals honored as Silver Beaver recipients were Terri Maurer and Eric Reneker.
The Silver Beaver Award was introduced in 1931 and is a council?level distinguished service award of the Boy Scouts of America. Recipients of this award are registered Scouters who have made an impact on the lives of youth through service given to the council. The Silver Beaver is an award given to those who implement the Scouting program and perform community service through hard work, self-sacrifice, dedication, and many years of service. It is given to those who do not seek it.