SILVER BEAVER SPOTLIGHT
Maurer has Scouting in her blood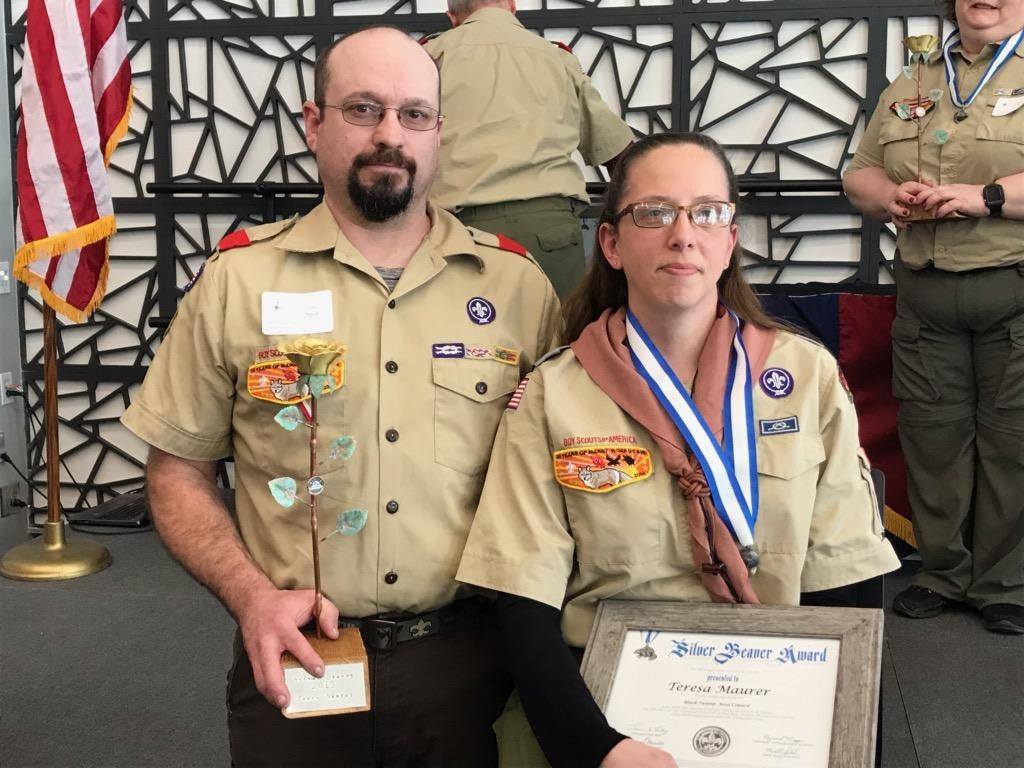 PICTURED: Terri Maurer, right, was recognized with the Silver Beaver Award at the Black Swamp Area Council annual meeting/dinner on Feb. 8. She is joined by her husband Tim.
The Silver Beaver award is the highest volunteer recognition a local Boy Scout Council can bestow. At this year's annual recognition luncheon the 2020 recipients of the Silver Beaver award for the Black Swamp Area council were recognized on Feb. 8 at the Tri Star Career Center in Celina.
Scouting has always been in Terri Maurer's blood. So, it was no surprise when she began her own Scouting journey in 2001 as a Venture Crew Committee Member with Crew 195. She then moved on to be a Den Leader in Pack 61 and moved through the positions of Cubmaster and Committee Member. Terri then became involved at the District level in 2008, where she took the role of Assistant District Commissioner, moving her way up to the District Commissioner role that she holds today. She became re-involved at the unit level in 2013 as an Associate Venture Crew Advisor of Crew 671 and Committee Member for Pack 44.
During her tenure as the Old Sycamore District Commissioner, Terri led the commissioning team to success as the first District in the Council to complete recharter for three straight years (2016-2018). She is currently the most tenured Commissioner out of the Districts. Old Sycamore District earned Journey to Excellence Silver in 2016, 2018, 2019 and JTE Gold in 2017.
Other Scouting achievements include Wood Badge in 2018, Order of the Arrow Brotherhood in 2014, District Award of Merit in 2012.
Outside of Scouting, Terri was a Troop Leader with Girls Scouts from 2005-2018, the Uniform Chairperson for the New Bremen High School Band, where she successfully uniformed 50-60 students each year, and a CCD substitute instructor and admin for the Holy Redeemer Catholic Church in New Bremen. Terri is married to Tim, who is an Eagle Scout, and they have two children, Dominik and Kelli.
Alongside of Terri, the other two individuals honored as Silver Beaver recipients were Doug Couchot and Eric Reneker.
The Silver Beaver Award was introduced in 1931 and is a council?level distinguished service award of the Boy Scouts of America. Recipients of this award are registered Scouters who have made an impact on the lives of youth through service given to the council. The Silver Beaver is an award given to those who implement the Scouting program and perform community service through hard work, self-sacrifice, dedication, and many years of service. It is given to those who do not seek it.