Simple steps, pay-off in big ways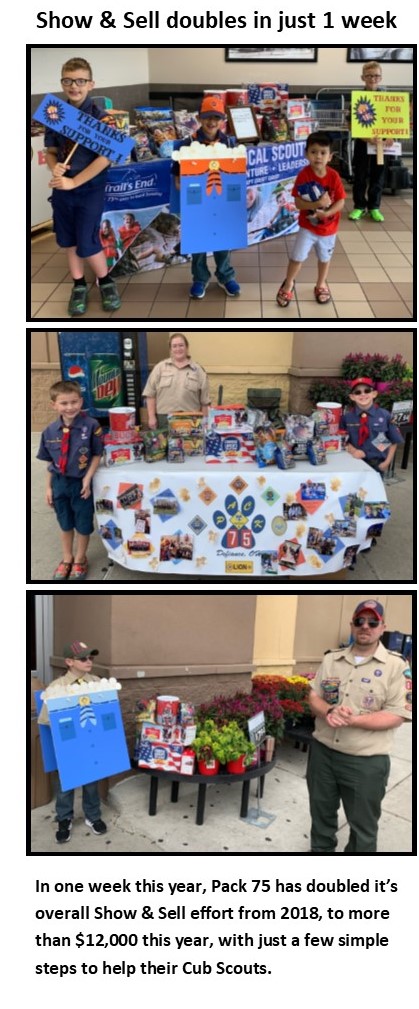 A few simple steps have help grow St. John Lutheran's Pack 75 popcorn sale tremendously this year. According to unit kernel Steph Sindel these steps have helped the Pack outpace last year's sales by nearly double so far in the first weeks of the sale.
"We have sold over $12,000 in a week, more than we ever expected!" she stated. Last year the Pack's total Show & Sell's effort was $6,155.
Having created a banner for their Show & Sell table with the Pack logo and by adding pictures of Scouts out Scouting is a great way to show potential supporters how the funds from the sale help the Pack go during the year! Additionally, there are pictures of the Scout group out doing community service.
"We have our Cubs stand by the doors with a product in hand and we have the table off to the side with the leader/adults," she added about helping the Cubs gain confidence and communicate and interact with adults. "The Scout does the asking and takes the money and returns change."
Another big impact in making the sales, and perhaps the closer, comes when the Cubs share their favorite thing from Scouting they were able to do because of the popcorn sale.
Download a simple Scout Sales Script by CLICKING HERE!
Additional helps, tips and storefront sales suggestions from Trail's End can be found by CLICKING HERE!
Great how-to videos for youth and adults can be found on Trail's End's YouTube channel by CLICKING HERE!