NOTE: Fort Jennings Scout featured Aug. 19 in the Lima News & limaohio.com. Here is a brief look at the story. For full story CLICK HERE!

By Shannon Bohle, Aug. 19, 2022, Lima News & limaohio.com


FORT JENNINGS — Friday evening residents of Fort Jennings celebrated the Freedom Square project opening and the dedication of a Purple Heart Memorial, a monument dedicated to combat-wounded veterans, which resulted from the efforts of 15-year-old Braden Knippen.


The memorial is his capstone project to apply to become an Eagle Scout.


Situated near a 10-foot flagpole flying a 35-foot flag, the flag and Purple Heart Memorial are illuminated throughout the night. Located in Freedom Square, the 5-foot 2-inch memorial is made of slick, polished black granite. ...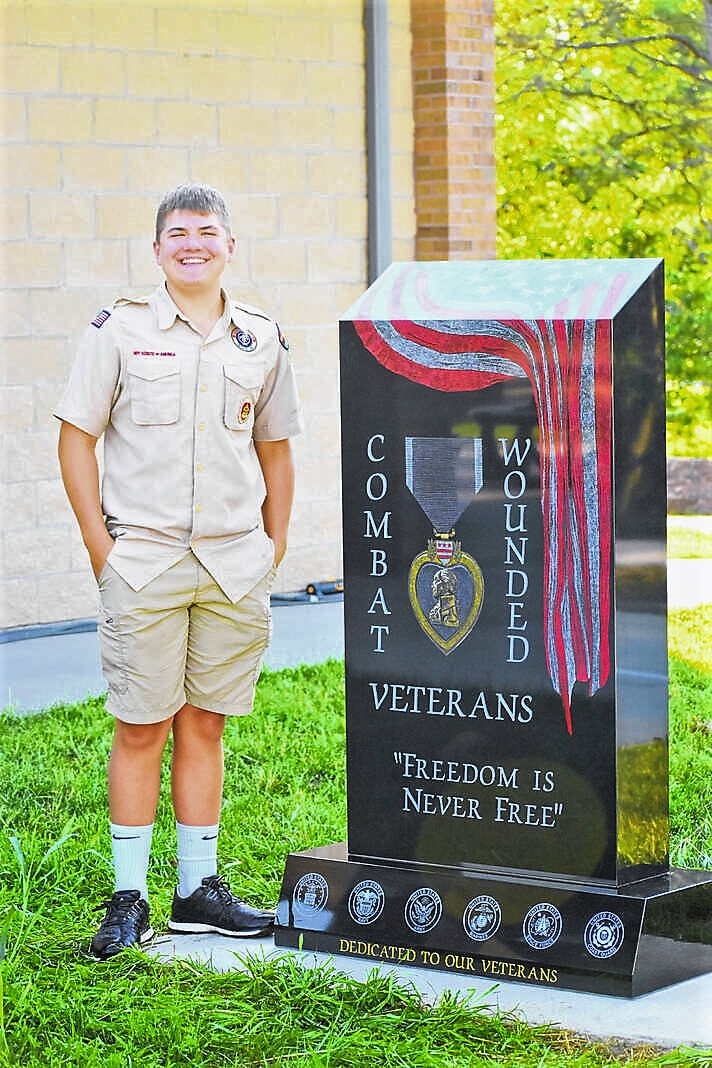 Braden Knippen and the front of the Purple Heart Memorial.
Photo by Shannon Bohle | The Lima News


The front of the base contains the medallions for all the branches of the military with the words "Dedicated to our Veterans" in gold, hand-engraved lettering. On the reverse is the notation of the year of the dedication and that it is an "Eagle Scout Project" by "Braden Knippen."
100th Eagle Scout honored by Troop 256
NOTE: Troop 256's Daniel Creeger was featured by the Bluffton Icon recently. Here is a brief look at the story. For full story CLICK HERE!


Posted by Paula Scott on September 13, 2022


On Sunday, September 11, 2022, Bluffton Boy Scout Troop 256 held an Eagle Scout Court of Honor for Daniel Robert Creeger at the Beaverdam Church of Christ.


Attended by family, friends, and Scouts of all ages, the ceremony included a presentation of the Scout Oath and Scout Law, presentation of Parent Pins by Daniel, comments on Daniel's experiences as a Scout by Mike Metzger, recognition by the Lima Elks Club and the Eagle Scout Charge conducted by all Eagle Scouts that were present.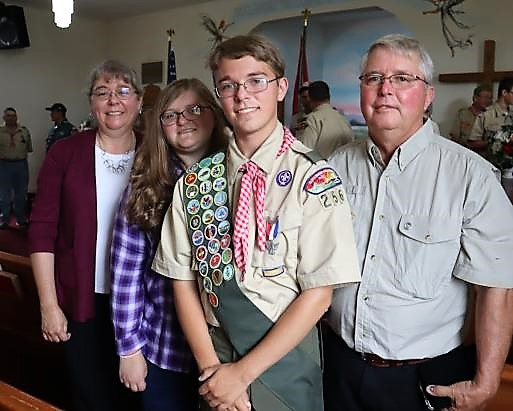 From the left, are: Robin, Hannah, Daniel and Loren Creeger. (Bluffton Icon photo)


To see the entire feature on Daniel Creeger - CLICK HERE!
If you have an Eagle Scout you'd like to see featured,
please contact Jim Mason at jim.mason@scouting.org

Scouting in the Black Swamp Area Council began in 1915 when the Scouting program was introduced to the youth people of Northwest and West Central Ohio. More than 5,000 individuals are participating in the local programs of Cub Scouts, Scouts BSA, Venturing, Exploring with more than 1,100 serving as adult volunteers. For more information about finding Scouting near you, visit BeAScout.org