2020 Merit Badge rankings:
A list rewritten by a pandemic
An interesting development occurred in 2020 for Scouting as a world-wide pandemic changed our lives. In Scouting, the popular merit badges earned by Scouts each year took a turn in a new direction. As the Scouting adventure took a different path, Scouts continued to earn merit badges.
In Black Swamp Area Council, our Scouts BSA Troop members put a focus on several merit badges that previously had not seen as much attention, while merit badges normally earned like First Aid and Swimming were replaced by Family Life and Public Health.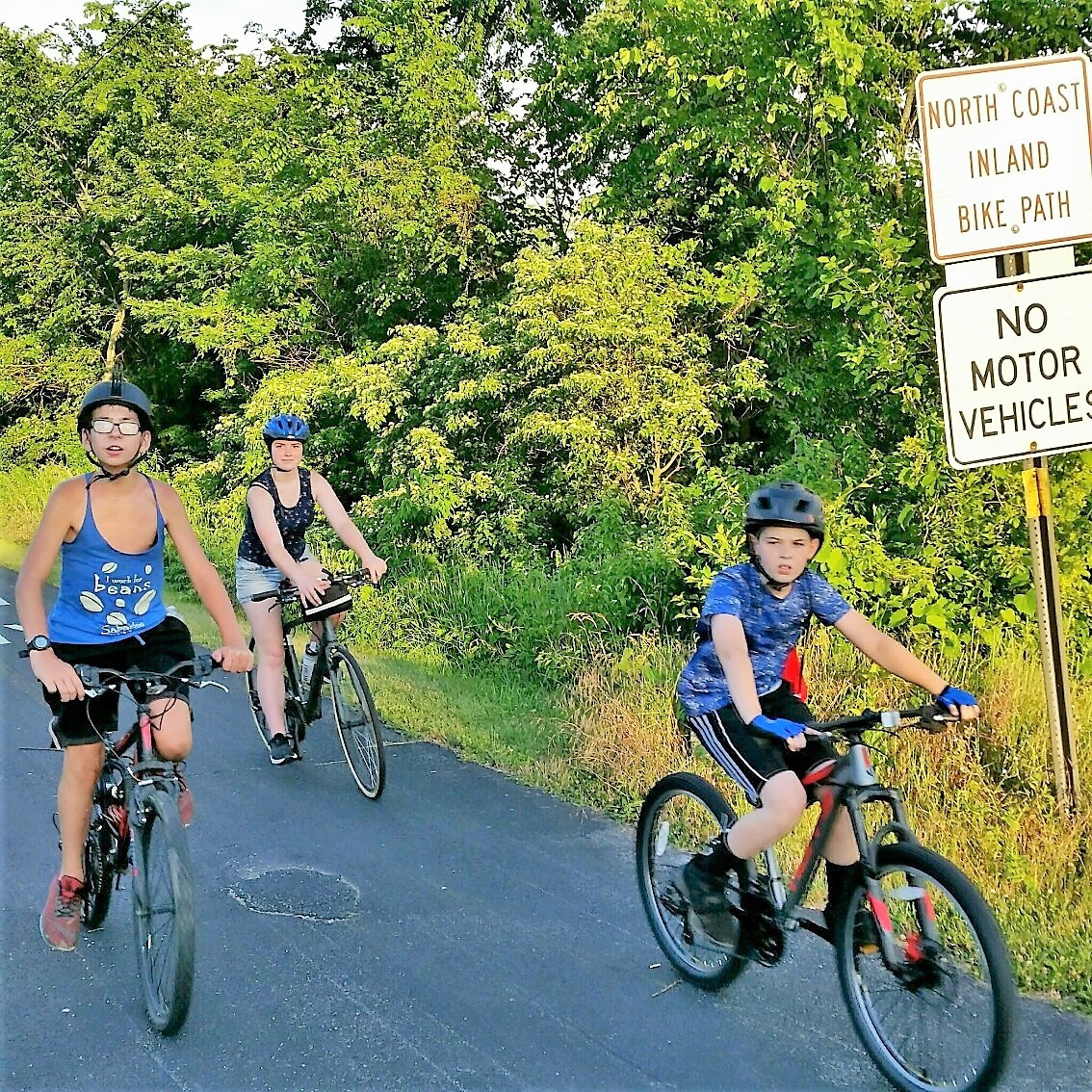 Members of Troop 444 in Tiffin found the Cycling Merit Badge was a great option to get the Troop back together last summer. According to Life Scout David Green the learning experience allowed for social distancing and was not just about earning a merit badge, but also it gave everyone the opportunity to see each other after staying home for two months and helped provide some memorable Scouting experiences.
An unprecedented rise in merit badges that can be earned at home, often with a Scout's family, became more popular.
In Black Swamp Area Council, Family Life rose to become the top merit badge earned in 2020, rising from No. 11 in 2019.
Other merit badges significantly climbing the list of earned badges last year include: Public Health, Cycling, American Heritage, Pets, Animation, Collections, Horsemanship, and Fly Fishing.
Nationally, the trend was similar as Family Life, Citizenship in the Nation, Citizenship in the World and Citizenship in the Community, and Personal Management were the top five.
Here in Northwest & West Central Ohio, the merit badges with the biggest jumps in popularity from 2019 to 2020 were:
Based on percentages, (earned in 2019 vs. 2020): Collections (1 to 27), Horsemanship (1 to 24), Fly Fishing (1 to 23), Public Health (2 to 41), and Animation (2 to 27).
Based on increase of earned (total in 2019 vs. 2020): Basketry (36 increased to 86); Public Health (2 to 41); Farm Mechanics (6 to 41); Family Life (92 to 124); and Cycling (4 to 31).
Flipping through the chart, some of the biggest drops in popularity from 2019 to 2020 were Swimming (127 to 3), First Aid (167 to 58), Archery (87 to 3), Chess (87 to 5), and Leatherwork (85 to 6).

More than 2,200 merit badges were earned in 2020.
Here's a look at the numbers: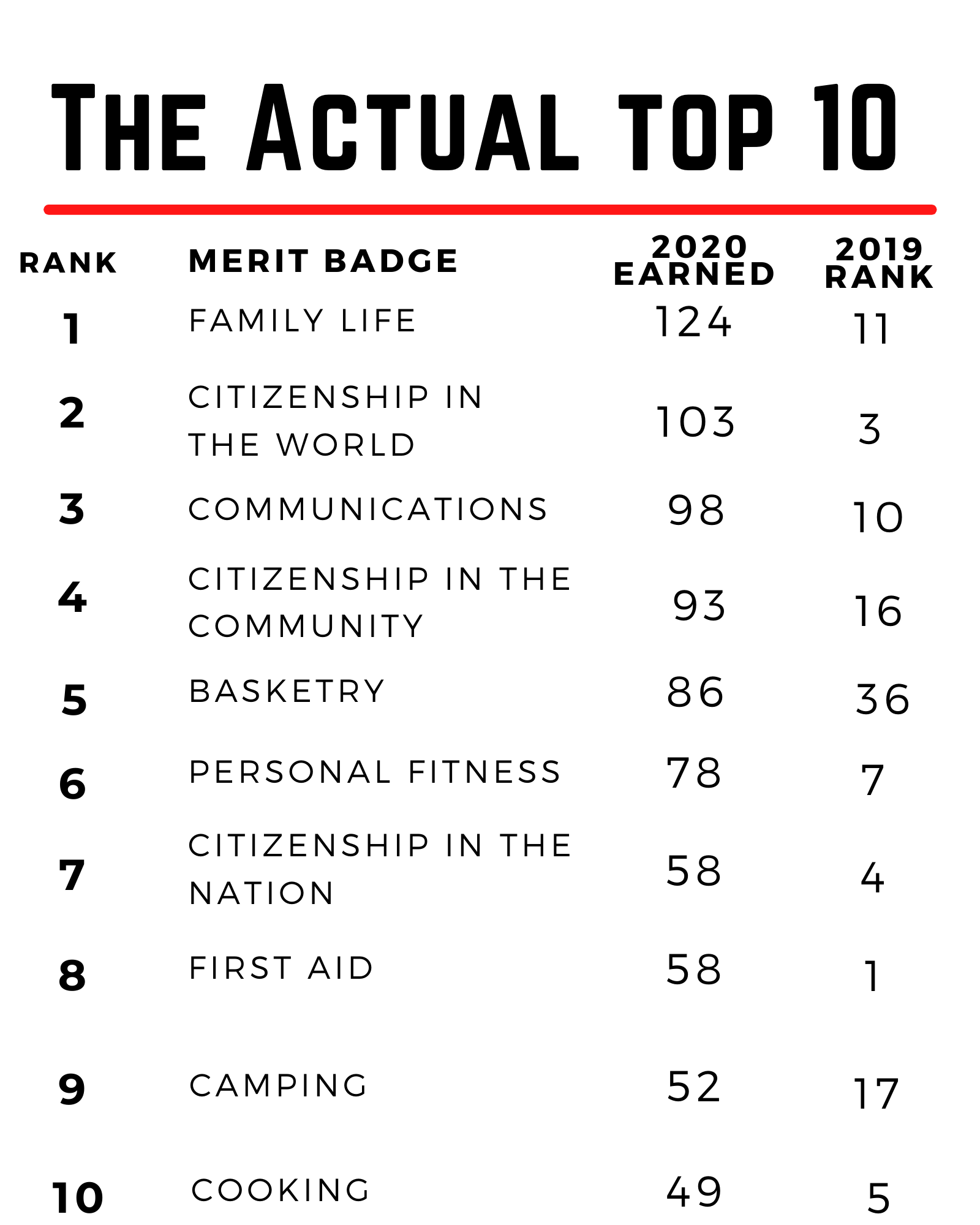 Merit badges not earned in 2020 were: Architecture, Backpacking, Chemistry, Composite Materials, Dentistry, Exploration, Graphic Arts, Lifesaving, Motor Boating, Nuclear Science, Pioneering, Sculpture, Signs Signals & Codes, Skating, Snow Sports, Veterinary Medicine, and Water Sports.


CLICK for 2020 Merit Badge Report for Black Swamp Area Council
CLICK for 2019 Merit Badge Report for Black Swamp Area Council


For a look at the national merit badge rankings, CLICK HERE for Bryan on Scouting
If you have a Scouting Story to share, please e-mail Jim Mason at Jim.Mason@scouting.org