Our Mission
The mission of the Boy Scouts of America is to prepare young people
to make ethical and moral choices over their lifetimes
by instilling in them the values of the Scout Oath and Law.
Scouting provides youth with a sense that they are important as individuals. It is communicated to them that those in the Scouting family care about what happens to them. Perhaps most importantly, Scouting promotes activities that lead to personal responsibility and high self-esteem. As a result, when youth are faced with difficult decisions, they are able to resist peer pressure and make the right choices.
As we continue to provide quality programs and services to youth and their families, we ask you to consider a placing a brick at the Black Swamp Area Council Camp of your choosing. Philanthropic investments from members of our community are critical in our ability to successfully address growth and program development at Camp Lakota and Camp Berry.
Become a permanent part of Scouting in Northwest and West Central Ohio and help put the Black Swamp Area Council Over the Top on the funding of our two great camp projects. Help support Cooper Lodge with Hubbard Dining Hall at Camp Lakota or Yammine Lodge at Camp Berry by leaving a legacy of a brick to be placed at either of these two needed structures for the Black Swamp Area Council Camps.
There are three options for bricks:
4x8 bricks with letters for $125
8x8 brick with pre-selected logo options for $350
8x8 4 brick array with personalized logo option for $1,500 (to order the array please contact Marc Kogan at (567) 208-5012 online order not available for this option). Logos for this option will need to a jpg. Example of a 8x8 4 brick array: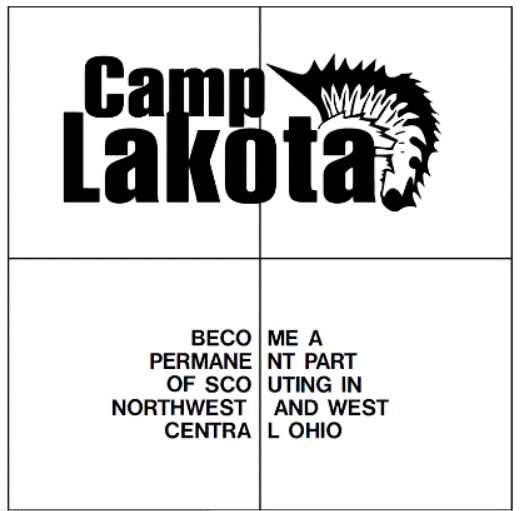 Once you place your brick order, please mail the payment with your order number to the:
Black Swamp Area Council Attn: Brick Campaign
2100 Broad Ave
Findlay, OH 45840
Small Paver 4x8: $ 125
Medium Paver 8x8: $ 350
4-Brick Array of 8x8 $ 1,500

Order deadline is September 30, 2023

Instillation of the bricks will occur after the buildings are complete with an anticipated date of Fall 2024
Fill out the interest form so when the online order site goes live we can notify you.
Over the Top Campaign Brick Order Link
Over the top Brick Campaign Flyer