The Boy Scouts of America, Black Swamp Area Council, held its Council Annual Meeting and Recognition Luncheon on Saturday February 16. At the luncheon, 3 Silver Beaver awards were bestowed, 2 new board members were elected to join the board, and the 2018 Kitty Freed Community Service Award was presented.
Silver Beaver Award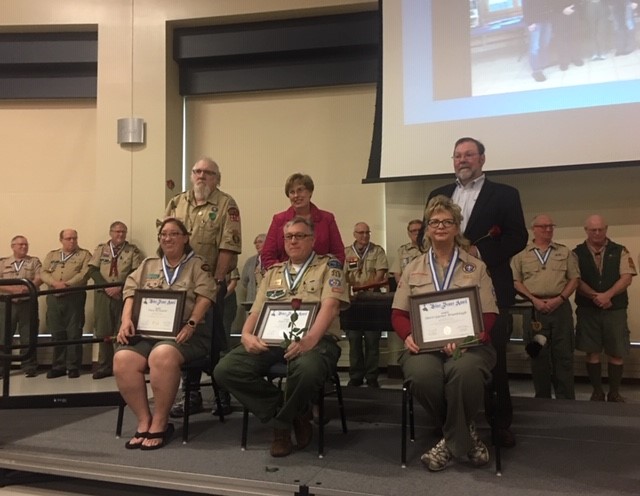 The Silver Beaver award is the highest volunteer recognition that a local Boy Scout Council can bestow. The 2019 recipient of the Silver Beaver award for the Black Swamp Area council are Peter Breton, Sherri Garner Brumbaugh and Tracy McDaniels.
Peter Breton serves as the District Chair for Arrowood District and has been active with Pack and Troop 319 chartered to St. Michael The Archangel Catholic Church.
Sherri Garner Brumbaugh is currently the president for the Black Swamp Area Council as well as the committee chair of Troop 308 chartered to St. Mark United Methodist Church. In the community, Sherri is active with University of Findlay, Humane Society, Blanchard Valley Hospital, American Heart Association and Wreaths Across America. Sherri also serves on the board of the American Trucking Association.
Tracy McDaniels is an active Scouting volunteer with the Chinquipin District and the council Cub Scout camping program, as well as the commissioner staff. For the past 19 years she has been the Office Manager for Drs. Shilling & Peiffer in Bowling Green. Outside of Scouting Tracy has been a soccer coach, as well as have served as a Councilman, and on the Board of Public Affairs for the Village of Malinta.
View the recipients video's at these links:
Kitty Freed Community Service Award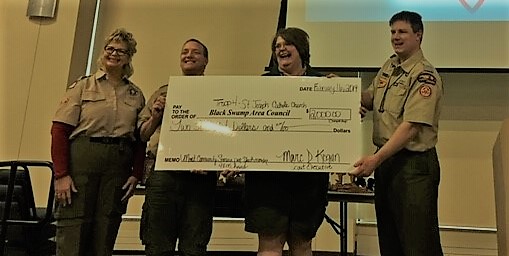 In 2018, Troop 4 chartered to St. Joseph Catholic Church in Wapakoneta recorded the most community service house per member, which amounted to 48.05 hours per registered scout. To recognize this duty to community, the troop was recognized with the Kitty Freed Community Service Award, which includes a $2,000 Campership to a Black Swamp Area Council Camp.
Council Report
In Council President Sherri Garner Brumbaugh report the council, she shared that the council was recognized with the silver level of the Boy Scouts continues improvement tool, known as journey to excellence. In addition, she shared that the council balanced its operating budget for 2018 and had growth in overall membership, driven by the growth in the council Exploring, workforce development program and the 111 girls that joined Cub Scouts in the family scouting program. A copy of the council annual report can be found at this link
New Executive Board Members
2 community members joined the executive board at the Annual Business meeting.
David Thompson
David Thompson is an Eagle Scout and a current resident of Van Wert County. He is employed by the Kenn-Feld Group, LLC a large John Deere dealer with 8 locations. David and Jana Thompson have three grown children. Their favorite family vacation is hiking in the mountains of Colorado, particularly Rocky Mountain National Park.
Tamera Rooney
Tamera Rooney is the former communications director for United Way of Hancock County. She served on the Black Swamp district planning committee from 1990-1999. She was a den leader for her brothers during that time. She recently served on the Explorer's committee helping to establish the Explorer's recognition event. Tamera is on the board of local organizations Awakening Minds Art, an arts program for people of all ages and abilities, and Welcome to a New Life, a mentoring program for people involved in the local criminal justice system. She also serves as a board member for the Redding Fiber Arts Preservation Society in Temecula, CA.
Board members, Cary Cox, Linda Hirschfeld, Chip Wood, Lynn Child and Jacques Behar, completed their term of service.
At the Council Executive Board meeting following the Council Annual meeting, the follow individuals were elected as officers of the council for 2019: Sherri Garner Brumbaugh, Council President, Garner Transportation; Michelle Waggoner, Council Commissioner, Community Memorial Hospital; Dan Meffley, Executive VP, Defiance Optometric Group, Inc; Keith Eiden, Treasurer, Superior Credit Union; Cheryl Parson, VP Membership, Better Business Bureau; Larry Ball, VP Development, Alpha Management; Curtis Brookhart, VP Program; Matthew Cunningham, VP Administration, Cunningham Law Office; Karl Heminger, VP District Operations, The Courier; Stan Doty DDS, VP Endowment; Dr. Phil Havens, VP Properties, Findlay Orthopedic Assoc.; John Swearingen, VP Alumni, Marathon Petroleum; Jeffrey Whitman, Attorney, Whitman Law Office; Hon. Mark Miller, Past President, City of Findlay; Robert Chesebro, Ex Cmte Member at Large.