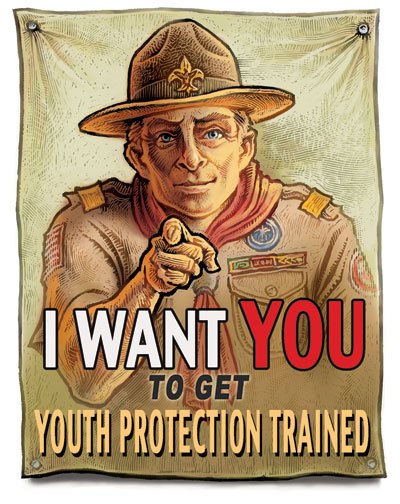 This Spring, the Boy Scouts of America revamped their Youth Protection Training, releasing YPT2. This all-encompassing version of the training is designed to replace all previous versions of Youth Protection. Therefore, it was decided that all Scouting volunteers need to complete this training before the next re-charter cycle, regardless of when YPT was last completed.
We have a deadline to complete the training of September 30th. That's only 39 days from today!
Over the next 6 weeks, we will send weekly communications with updates on our current YPT2 status. As of this week, we have the following registered volunteers who have completed the training:
501 out of 1,912
26.2%
We are asking you to help us out to grow our number. As it stands, we have 26.2% of our volunteers trained on YPT2. We want to get to 100% by September 30th. Read below for your opportunities to complete the online training, and resources to help you.
Take YPT2 online!

Visit www.my.scouting.org to complete YPT2!
Click Here for a step-by-step guide to taking YPT2.
Take YPT2 in a live in-person setting with the Council Training Committee!

September 27th, 7:00 pm @ the Ottawa Scout House (E 3rd St, Ottawa)
September 29th, 8:00 am @ First Presbyterian Church (2330 S Main St, Findlay)
To attend one of these trainings, please contact Council Training Chair, Tammy Speer, at bsactraining@gmail.com
Resources

For answers to Frequently Asked Questions, click Here.
We stress that you get online ASAP to complete the training. The closer we get to September 30th, the more congested the online training module will become. The expectation is that the system will begin to crash, making it difficult to complete the training. So please, go on NOW and get your training done before the mad rush!
Please help us meet these goals as push for 100% completion of YPT2!!
50 % Trained by August 30th
75% Trained by September 15th
100% Trained by September 30th
We can do it! Thanks for your help!!