Northern Tier 2018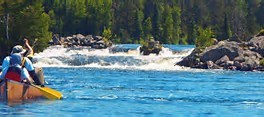 Northern Tier, one of BSA's National High Adventure Bases, provides exciting opportunities to explore the vast Boundary Waters of northern Minnesota and southern Canada. Black Swamp Area Council is looking to send a crew(s) – each crew consists of 6 scouts and 2 adult leaders – to Northern Tier in 2018.
The crew(s) will be based out of Charles Sommers Canoe Base near Ely, Minnesota. Programs are ideally suited for novice canoeists, but offer challenging routes for experienced travelers as well. Each crew may choose to visit beautiful waterfalls, travel into remote country, find best fishing locations, visit ancient pictographs, or experience a combination of all of these.
Securing a reservation requires individuals willing to commit to the trek by September 1, 2017. Youth participants must have attained the age of 13 by the date of arrival at the Sommers Base. If interested, please contact Mike Saxton, High Adventure Chair, at 419-439-2079 or jmsaxton823@gmail.com.