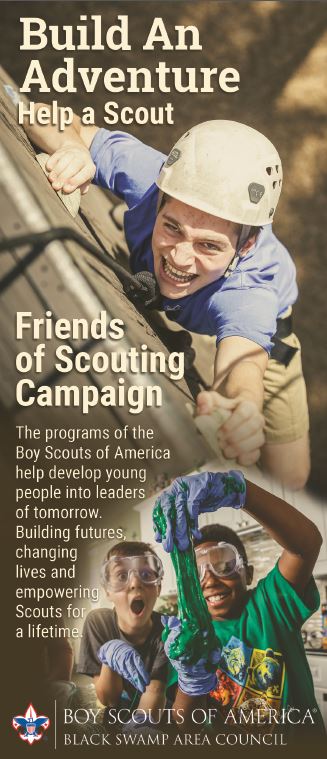 The outdoor program of the Boy Scouts of America begins with friends around a campfire and the enthusiasm of youth to learn from and experience the world around them. Scouting creates smiles, builds futures and changes lives while empowering your Scout for a lifetime. It is all made possible through your investment in Scouting and the Black Swamp Area Council.
FOS is an annual local fundraising campaign that offers you an opportunity to support Scouting and offset the costs of programs and services.
Does Your Company Match Gifts?
Many businesses will match your FOS gift. Be sure to ask your employer if they will contribute to the campaign with a matching gift.
89% of the money raised through Friends of Scouting goes to direct services for our youth
It will cost approximately $220 to provide the full Scouting experience to one child this year. That's more than your registration fees and dues. When each family donates, the Black Swamp Area Council can offer the finest Scouting experience to your child.
Gifts are 100% tax deductible and help provide:
Financial assistance for low-income Scouts, including camp scholarships, and other assistance
Improvements and maintenance for our two beautiful camp properties: Camp Lakota and Camp Berry
Training and educational materials for our 2,100 volunteers who lead our youth members
Accident and general liability insurance
And more!
Expenditures
Direct Service to Youth (89%)
Fundraising (3%)
Administrative (8%)
Revenue (Minus camping operations)
Friends of Scouting (31%)
Popcorn & Camp Cards (45%)
United Way (9%)
Foundations & Trusts (9%)
Special Events (6%)
Resources