Furthermore, all six youth after their return to Ohio cleaned up and 24 hours later attended weeklong summer camp at Camp Berry. In total three full weeks of Scouting outdoor activities.

June 9 the group departed and traveled by Amtrac rail system. The Southwest Train beats driving, and it is a great experience. Spending time in the observation car the kids enjoyed that. Nice time to relax and get your thoughts in order. The downside to the train is every segment of the ride the train was late. It was nice to interact with all the various Scout Groups from around the country.

There was a tragic incident just recently of a group of Scouts that were in a train derailment coming back from Philmont - read more here.
During the trek which was June 11 – June 23, the group hiked and logged an average of 11 miles a day on a few occasions. There were 57 miles in total logged and completed the trail up to 12,441 feet to the summit of Mt. Baldy (see group picture below). The weather was 43F and winds reached 30 mph at the top.


There were three different shooting activities such as black powder, sporting clays, and Cowboy.


Highlights Were:
· Climbed Mount Baldy - 12,441 feet
· Blacksmithing
· Shooting - shotgun clay pigeon, black powder, cowboy action shooting
· Railroading
· COPE
· Tomahawk
The group also visited the National Scout Museum which has some neat Scout memorabilia.

Kevin noted the weather was always interesting. Being super dry and in the high 90's then going to high 30's on high altitude hikes.

Most of the time the group hiked 5-6 miles a day keep in mind 2,000-3,000 feet of elevation.


Another neat part of the trip - Each night all the Scouts and adults utilized "roses, thorns, buds".

"Rose" is something that went well, "thorn" something that didn't go well, "bud" is something you're looking forward to doing. This was a great time to reflect and listen to how others were feeling.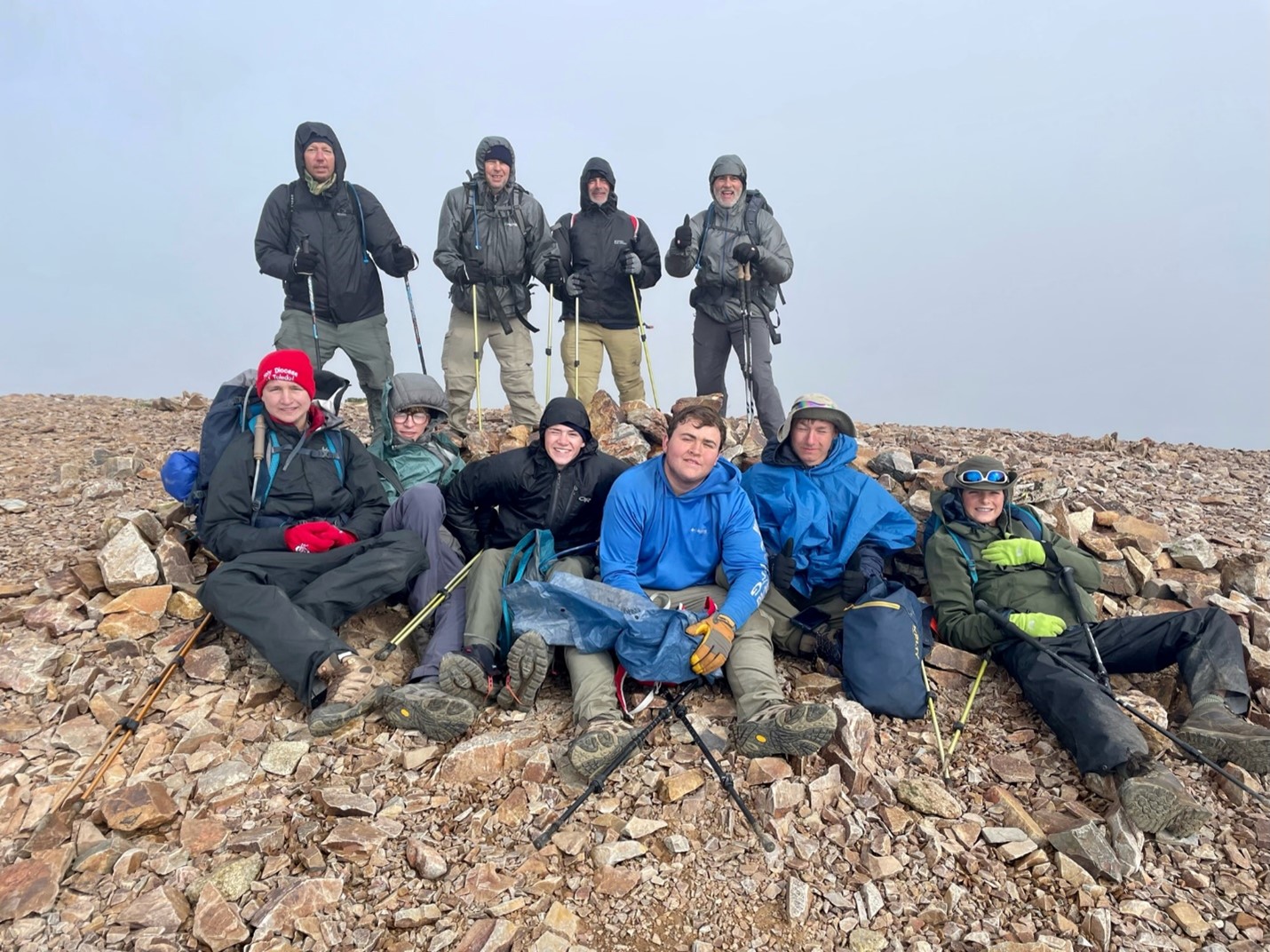 Philmont Scout Ranch is the Boy Scouts of America's largest National High Adventure Base. Born in 1938 as Philturn Rocky Mountain Scout Camp, Philmont has become a bustling center for high adventure and training. It covers 140,177 acres of rugged mountain wilderness in the Sangre de Cristo range of the Rocky Mountains in northeastern New Mexico. Philmont has a unique history of ancient Native Americans who chipped petroglyphs into canyon walls, Spanish conquistadors, who explored the Southwest long before the first colonists arrived on the Atlantic coast, the rugged breed of mountain man such as Kit Carson, who blazed trails across this land, the great land barons like Lucien Maxwell who built ranches along the Santa Fe Trail and miners, loggers and cowboys. All left their mark on Philmont.


Philmont Scout Ranch operates 35 staffed camps and 55 trail camps across the rugged terrain that ranges in elevation from 6,500 to 12,441 feet. More than 1 million Scouts, Venturers, and Advisors have experienced the adventure of Philmont since its first camping season in 1939. Most activities take place during the summer, but Philmont also offers programs during the offseason such as Autumn and Winter Adventure. Throughout its existence, conscientious attention to low-impact camping techniques and diligent wildlife and forestry conservation work has helped maintain Philmont's wilderness.


In addition to providing an unforgettable adventure in backpacking across miles of rugged, rocky trails, Philmont Scout Ranch offers programs that feature the best of the Old West—horseback riding, burro packing, gold panning, chuckwagon dinners, and interpretive history—with exciting challenges for today such as rock climbing, mountain biking, and sport shooting. It's an unbeatable recipe for fast-paced fun in the outdoors.
If you have an Eagle Scout you'd like to see featured,
please contact Jim Mason at jim.mason@scouting.org

Scouting in the Black Swamp Area Council began in 1915 when the Scouting program was introduced to the youth people of Northwest and West Central Ohio. More than 5,000 individuals are participating in the local programs of Cub Scouts, Scouts BSA, Venturing, Exploring with more than 1,100 serving as adult volunteers. For more information about finding Scouting near you, visit BeAScout.org